Gentle Mist Personal Diffuser
| | |
| --- | --- |
| Item: | 5341 |
| Discount Price: | $44.50 |
| Price: | $58.55 |
Whether you're traveling from home to the gym or from Rome to Milan, the Gentle Mist™ Personal Diffuser will help keep your skin and space fresh and invigorated. Small enough to fit in the palm of your hand and cord free, this sleek travel accessory provides a 30-second stream of essential oil-infused mist with the press of a button.
*Young Living diffusers have been created and tested to work beautifully with Young Living essential oils.
Product Snapshot

FEATURES
Portable, compact, and battery powered— perfect for travel.
Developed in collaboration with essential oil skin care specialists.
Runs up to 21 cycles on one full 8-ml reservoir.
Tested and guaranteed to run using the purest essential oils.
Replaceable ultrasonic plate and reservoir.

CONTENTS
Gentle Mist Personal Diffuser
Refill Bottle
Operation Manual
Carrying Pouch
Requires 3 AAA Batteries (not included)
Suggested Uses

DIRECTIONS
Add 2–4 drops of your favorite essential oil and diffuse the mist around your face and neck during your morning and evening skin care routine.
In the morning, add 2–4 drops of an essential oil with a bright energizing aroma like Grapefruit or Peppermint and mist on your face after a shower or before applying makeup.
Refresh yourself while traveling by using after long airplane or car trip.

EXPERIENCE
With a convenient handheld shape, this slender and elegant accessory allows you to enjoy the soothing, energizing, and invigorating aroma of essential oils—anytime, anywhere.

CAUTIONS: Do not inhale the vapor directly from the vapor exit port. For safety and care information, refer to the Gentle Mist Personal Diffuser Operation Manual.
Additional Information

Designed for convenient use on the go, the Young Living Gentle Mist Personal Diffuser provides all the basic features of the traditional diffusers you know and love, in a compact and portable option.
COVERAGE AREA: Close Area (approx. 4.5 m2 / 50 ft2)
OPERATION TIME: 30 seconds per cycle
SIZE/DIMENSIONS: 14.7 x 4.9 x 3.9 cm
RESERVOIR SIZE: 8 mL
WEIGHT: 2.4 oz
VAPOR OUTPUT: 0.38 ml of water & oil/30 second cycle
NOISE LEVEL: <20 dB
ACCESSORIES/ADDED FEATURES:
23146 - Reservoir Ultrasonic Plate
23147 - Back Plastic Reservoir Cover
23148 - Back Plastic Battery Cover
*Added Features: Timed Shut-Off, Ambient Light
Leave a Comment / Ask a Question
Subscribe to My Updates
Here's some information about the list that you're signing up for. It will populate the description from their account.
Free Email Class: Essential Oils 101
Learn all the basics on essential oils in my FREE Essential Oils 101 Email Course. I'll also share DIY beauty and skin care recipes, homemade cleaners and other practical uses for essential oils to help you save money too.
Ready to begin a healthier life?
Get a Starter Bundle and SAVE!
Most of us begin our journey by choosing a Young Living Starter Bundle. The bundles offer considerable value for your money and they contain enough full-size items to ensure initial success using Young Living.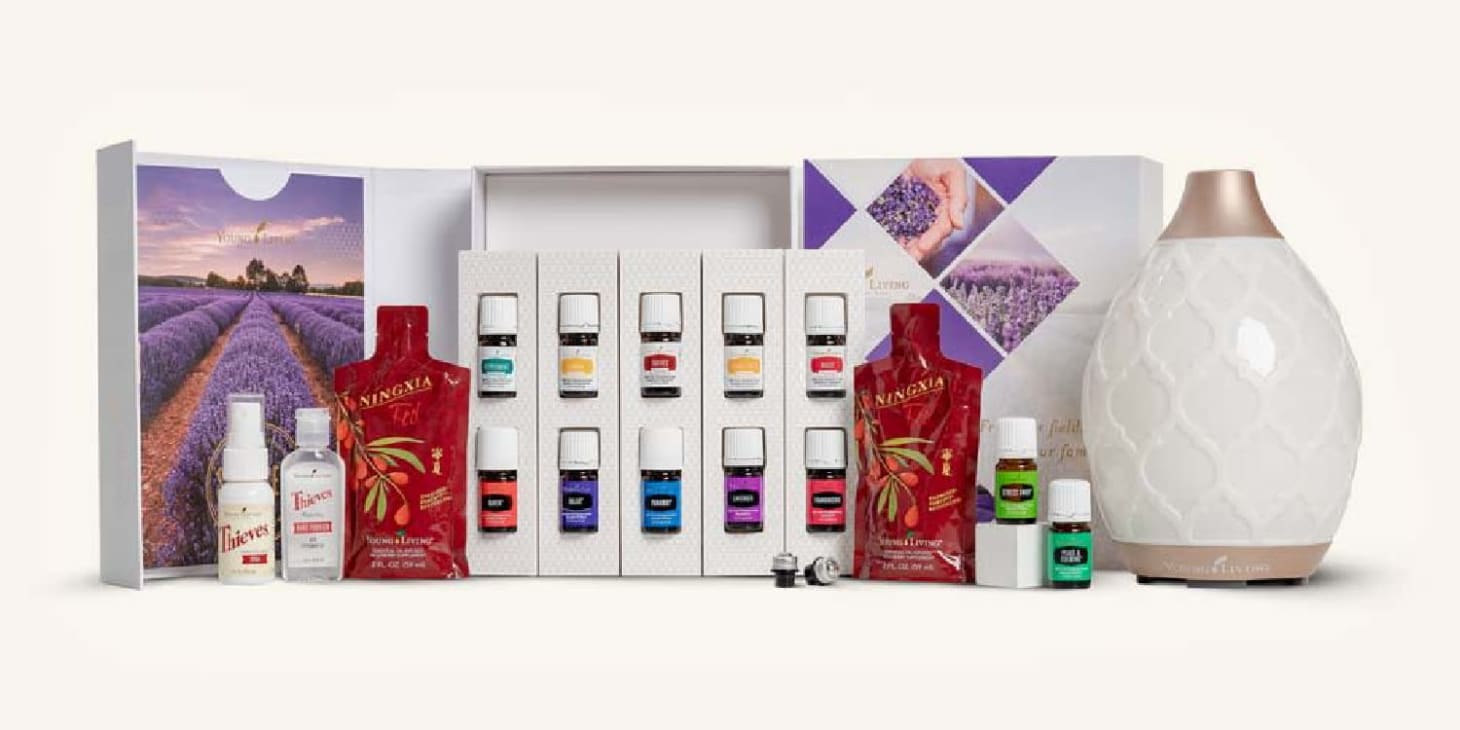 Check It Out
For Home, health, & fitness
Products for Everyone!
These products celebrate the harmony between nature, body, mind, and soul. Have you noticed that walking through lavender fields or a pine forest seems to instantly awaken your senses — from the energizing aromas to the feelings of well-being the smell evokes? Young Living infuses this into everything they create.
Next Event Title
This is a description of the event pulled from the user's account, talking about how awesome it is going to be.