| | |
| --- | --- |
| Item: | 3064 |
| Size: | 14 tubes |
| Discount Price: | $44.50 |
| Price: | $58.55 |
When you need a midday boost, it's easy to reach for things like soda and energy drinks. Skip the sugary solution and reboot with an option from Young Living.
With NingXia Nitro®, you'll get a quick pick-me-up without the sugar or caffeine overload. Infused with essential oils, botanical extracts, D-ribose, Korean ginseng, and green tea extract, NingXia Nitro supports alertness, as well as cognitive and physical fitness.*
Suggested Uses

APPLICATION
A great support for body and mind wellness, use NingXia Nitro for running, weightlifting, or getting through your afternoon slump.
The naturally occurring caffeine in Young Living's NingXia Nitro supports normal energy levels and alertness to help you with a busy day or a tough workout.*
Stash Nitro wherever you need it! The small, convenient packaging makes it a great addition to your office desk, gym bag, or purse. Each box contains 14 20-ml tubes.
Take a shot of Nitro when your early-morning routine demands alertness and a quick start to the day—especially after a restless night's sleep!*
Keep Nitro on hand to help you stay your sharpest through the workday.*
Store Nitro in your gym bag for a boost during your workout.*
Energize during all-day outdoor adventures. You can store Nitro on the boat, in your daypack, or in your ski jacket.*
Pack Nitro while travelling to help you stay alert and upbeat during all-day walking, sightseeing, and tours.*

DIRECTIONS
Consume NingXia Nitro® directly from the tube or mix with 1 oz. of NingXia Red® or 4 oz. of water to enhance physical performance, clear the mind, or anytime you need a pick-me-up.
Best served chilled. Shake well before use.

*Product contains dairy and tree nut (coconut)
* These statements have not been evaluated by the Food and Drug Administration. Young Living products are not intended to diagnose, treat, cure, or prevent any disease.
Ingredients
Proprietary Nitro™ Energy blend: D-Ribose, Green tea extract, Mulberry leaf extract, Korean ginseng extract, Choline (as Choline bitartrate), Proprietary Nitro Alert™ oil blend: Vanilla planifolia (Vanilla)† oil, Chocolate oil, Yerba mate oil, Mentha spicata (Spearmint)† oil, Mentha piperita (Peppermint)† oil, Myristica fragrans (Nutmeg)† oil, Piper nigrum (Black Pepper)† oil, Wolfberry seed oil. Other Ingredients: Purified water, Nitro juice blend concentrate: (Cherry, Kiwi, Blueberry, Acerola, Billberry, Black currant, Raspberry, Strawberry, Cranberry), Coconut nectar, Natural flavors, Pectin, Xanthan gum
Leave a Comment / Ask a Question
Subscribe to My Updates
Here's some information about the list that you're signing up for. It will populate the description from their account.
Free Email Class: Essential Oils 101
Learn all the basics on essential oils in my FREE Essential Oils 101 Email Course. I'll also share DIY beauty and skin care recipes, homemade cleaners and other practical uses for essential oils to help you save money too.
Ready to begin a healthier life?
Get a Starter Bundle and SAVE!
Most of us begin our journey by choosing a Young Living Starter Bundle. The bundles offer considerable value for your money and they contain enough full-size items to ensure initial success using Young Living.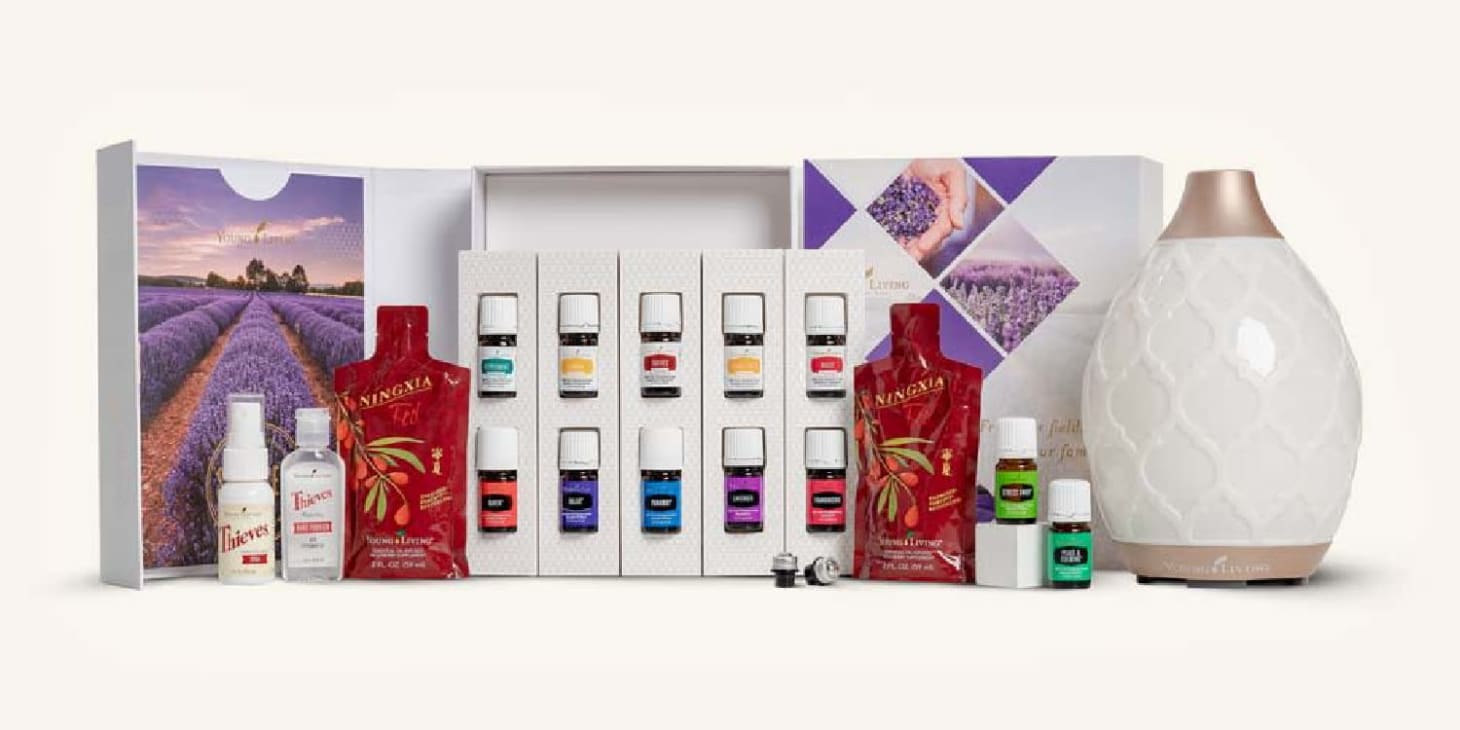 Check It Out
For Home, health, & fitness
Products for Everyone!
These products celebrate the harmony between nature, body, mind, and soul. Have you noticed that walking through lavender fields or a pine forest seems to instantly awaken your senses — from the energizing aromas to the feelings of well-being the smell evokes? Young Living infuses this into everything they create.
Next Event Title
This is a description of the event pulled from the user's account, talking about how awesome it is going to be.