Trauma Life Essential Oil lends a helping hand in any difficult or stressful situation. It is an excellent blend to soothe "high" emotions or bring peace.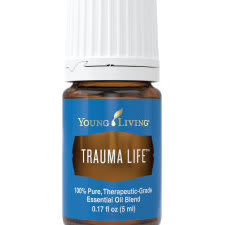 Use it to deal with grief, or as a natural remedy for stress! There are so many uses in the emotional category I can't list them all here!
Are you dealing with any emotional stress from the past? Try Trauma Life oil! It may help to release buried emotional garbage when used with other modalities.
Therefore, it is so effective for emotional release work for humans and animals. Check with your alternative health veternarian for your pet's needs.

Ingredients:
Santalum paniculatum† (Royal Hawaiian™ sandalwood) wood oil,
Boswellia carterii† (Frankincense) oil,
Valeriana officinalis† (Valerian) root oil,
Picea mariana† (Black spruce) leaf oil, Artemisia pallens† (Davana) flower oil,
Lavandula angustifolia† (Lavender) oil,
Pelargonium graveolens† (Geranium) flower oil,
Helichrysum italicum† flower oil,
Citrus hystrix† (Kaffir lime) leaf extract,
Rosa damascena† (Rose) flower oil
†100% pure, therapeutic-grade essential oil

Uses for Trauma Life Essential Oil can be: Acceptance, agitation, anger, animals (abandoned, poor or negative homes or situations), balance, emotional blocks, calming, calming children, death of loved one, deprogramming, fear, loss, overcome difficult situations, release, negative emotions, peace, relaxation, restlessness, sedative, unwind before bed and stress.

You can use Trauma Live Aromatically and Topically.

Trauma Life goes to the root of the problem when we are blocked energetically due to negative past experiences or circumstances. It will bring awareness to what you learned or were supposed to learn, about those situations as a loving, compassionate observer.
It will help us release anger, resentment and triggers towards these events and bring in forgiveness. Until we forgive, we do not truly heal.
It also helps those who feel sorrow or grief for a loved one or animal. In this case I would diffuse or add Joy or Lemon as well.
Either way, this oil helps us overcome difficult situations by releasing the emotional edge that is disguised as fear. It is welcome at my home or barn on any day.
In these situations, the oils of Inner Child, SARA and Release may also be effective, either separate or combined.
Note: Please make sure you have support when releasing deeply buried emotions. The oil may bring something up and help you release it, but you are still need to do your transformational work. It is the understanding and forgiveness that brings you your freedom, not the oil itself. The oil is the messenger.
***** This statement has not been evaluated by the Food and Drug Administration. This product is not intended to diagnose, treat, cure, or prevent any disease. *****

I would love to hear from you! Please leave a comment 😊
Subscribe to My Updates
Here's some information about the list that you're signing up for. It will populate the description from their account.
Free Email Class: Essential Oils 101
Learn all the basics on essential oils in my FREE Essential Oils 101 Email Course. I'll also share DIY beauty and skin care recipes, homemade cleaners and other practical uses for essential oils to help you save money too.
Ready to begin a healthier life?
Get a Starter Kit and SAVE!
Most of us begin our journey by choosing a Premium Starter Kit. The kits offer considerable value for your money (significantly lower than paying retail), and they contain enough full-size items to ensure initial success using Young Living.


Check It Out
For Home, health, & fitness
Products for Everyone!
These products celebrate the harmony between nature, body, mind, and soul. Have you noticed that walking through lavender fields or a pine forest seems to instantly awaken your senses — from the energizing aromas to the feelings of well-being the smell evokes? Young Living infuses this into everything they create.
Next Event Title
This is a description of the event pulled from the user's account, talking about how awesome it is going to be.