Protectors give and give and give. From early mornings to late nights, these champions always look out for you. It's time to pay it forward for Father's Day! With the Dewdrop Essentials Collection, you can snag your guy a Dewdrop Diffuser. Best part? It's complimentary, because who doesn't love free stuff? They will also receive icy Idaho Blue Spruce, nature-like Northern Lights Black Spruce, peppy Peppermint, and lively Lemon.
This limited-time Father's Day collection is available June 1 at 12 midnight, MT, through June 13 at 11:59 p.m., MT, and is ideal for macho men, refined gentlemen, or anyone, male or female, who adores diffusing essential oils.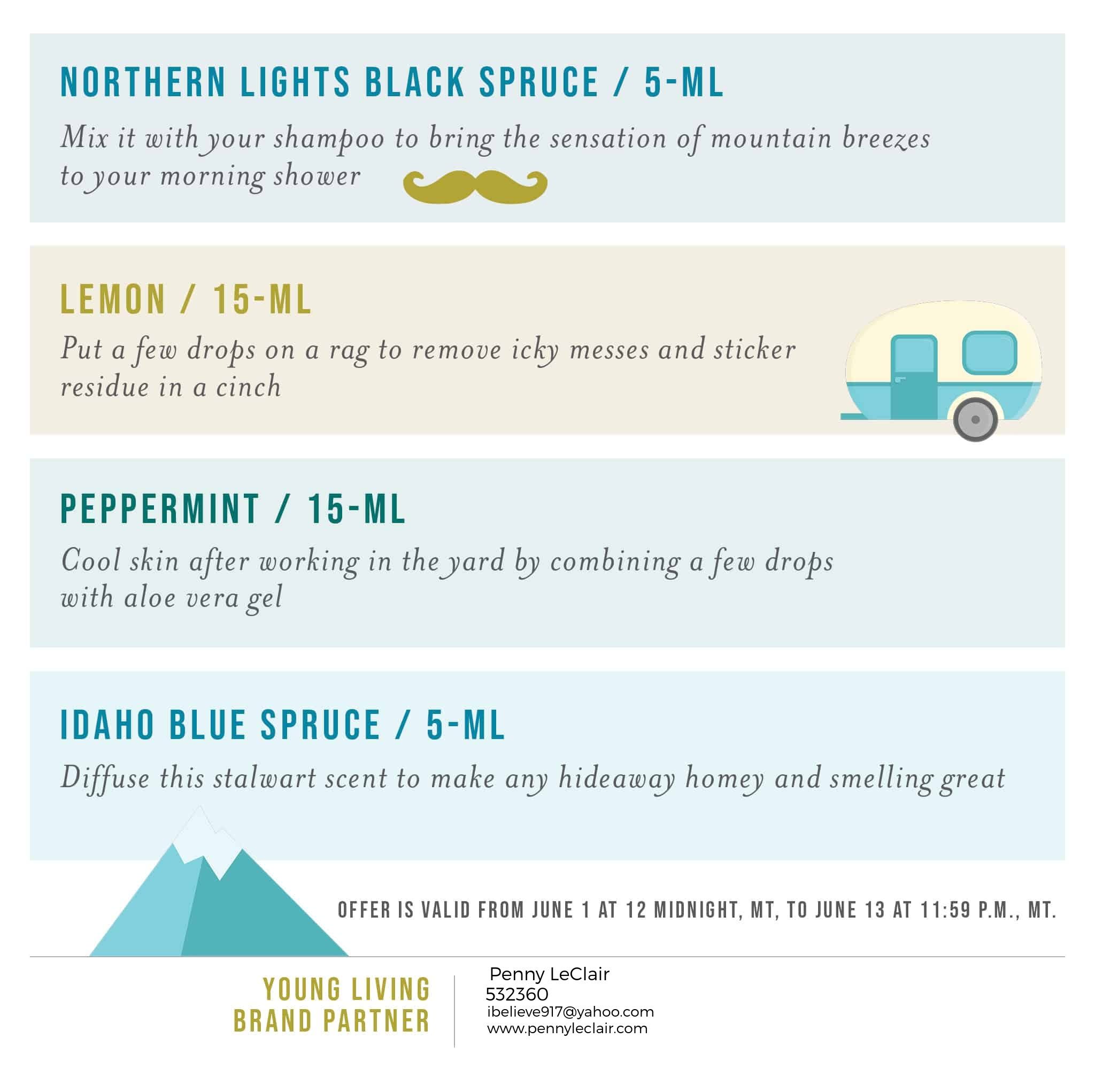 Dewdrop Essentials Collection
Show those at-home heroes how much you care with a complimentary diffuser and crisp, cool oils.
Complimentary Dewdrop Diffuser
• Infuse the air with earthy, complex, or sharp-scented scents.
• Combine Idaho Blue Spruce, Northern Lights Black Spruce, and Peppermint for an outdoor adventure scent or diffuse Lemon to brighten up any room.
Idaho Blue Spruce essential oil*, 5 ml
• Use this straight-from-nature aroma as a cologne, perfume, or beard or hair oil.
• Diffuse this stalwart scent to make any hideaway homey and smelling great.
Northern Lights Black Spruce essential oil*, 5 ml
• Add a few drops to your favorite face cream to boost moisture.
• Mix it with your shampoo to bring the sensation of mountain breezes to your morning shower.
Lemon essential oil, 15 ml
• Snuff out stinky smells by placing an oil-infused cotton ball in your sock drawer or shoe closet.
• Put a few drops on a rag to remove icky messes and sticker residue in a cinch.
Peppermint essential oil, 15 ml
• Cool skin after working in the yard by combining a few drops with aloe vera gel.
• Blend a drop or two with a small amount of V-6™ and rub it into tired muscles.
Item No.: 39058
Wholesale price: $91.25
Retail price: $120.07
PV: 75.98
Shop/ER: Shop and ER (ER must be processed between June 1−13)**
Limit: No limit
LTO: Yes
Ship to NFR/APO: Not available for NFR or APO; U.S. only.
Order date and time: Offer is valid from June 1 at 12 midnight, MT, to June 13 at 11:59 p.m., MT.
Who can order: All U.S. accounts, including existing members, new members, upgrades, and reactivations
*These items are considered dangerous goods. Shipping restrictions apply.
**If you order this collection on ER and it goes out of stock, it will be removed from your template and could possibly drop you below your PV requirement.
Leave a Comment / Ask a Question
Subscribe to My Updates
Here's some information about the list that you're signing up for. It will populate the description from their account.
Free Email Class: Essential Oils 101
Learn all the basics on essential oils in my FREE Essential Oils 101 Email Course. I'll also share DIY beauty and skin care recipes, homemade cleaners and other practical uses for essential oils to help you save money too.
Ready to begin a healthier life?
Get a Starter Kit and SAVE!
Most of us begin our journey by choosing a Premium Starter Kit. The kits offer considerable value for your money (significantly lower than paying retail), and they contain enough full-size items to ensure initial success using Young Living.


Check It Out
For Home, health, & fitness
Products for Everyone!
These products celebrate the harmony between nature, body, mind, and soul. Have you noticed that walking through lavender fields or a pine forest seems to instantly awaken your senses — from the energizing aromas to the feelings of well-being the smell evokes? Young Living infuses this into everything they create.
Next Event Title
This is a description of the event pulled from the user's account, talking about how awesome it is going to be.