HEY-HEY-HEY, LET'S PLAY!!! JUNE'S GIFTS WITH PURCHASE are sure to make your adventures more enjoyable now that the weather is warmer and the urge to just get out and have some fun may have hit you! Young Living always knows what we need! Here's what we have in store for you, ALL 15 ml --
300 PV: (Retail value: $185.53)
Peace & Calming, 15 ml
Aroma Siez, 15 ml
Citronella, 15 ml
Bonus Essential Rewards: Eucalyptus Globulus, 15 ml
250 PV: (Retail value: $91.78)
Aroma Siez, 15 ml
Citronella, 15 ml
Bonus Essential Rewards: Eucalyptus Globulus, 15 ml
190 PV: (Retail value: $47.37)
Citronella, 15 ml
Bonus Essential Rewards: Eucalyptus Globulus, 15 ml
Of course, you get FREE SHIPPING with every 100+ PV order if you choose Economy shipping!
PEACE & CALMING
• A crowd favorite! Put on soles of feet, on ears, back of neck, wrists … and feel the tension just melt away! It's happy sleepy time before bed or any time you want to relax!
• Generally available in only 5 ml. We're getting 15 today!
• Peace & Calming is a gentle, sweet blend of Ylang Ylang, Orange, Tangerine, Patchouli, and Blue Tansy. Smells wonderful and is a delightful addition to your meditation, quiet time, and evening routine to support a good night's rest!
• Diffuse or add a few drops to evening bath.
• Young people and adults are drawn to this one!
NOTE - Peace & Calming is photosensitive, so don't slather it on your bod and go lay in the sun. No! Put it where the sun doesn't shine -- back, tummy, soles of feet -- if you're heading outdoors!
AROMA SIEZ
• This invigorating essential oil blend contains Basil, Marjoram, Lavender, Peppermint and Cypress. What a powerhouse of oils! It's part of our wonderful Raindrop Technique. If you've never had a Raindrop, now's the time. You will LOVE it!!
• Aroma Siez is an advanced complex of muscle relaxing essential oils that promote healthy circulation and a healthy inflammatory response. Your muscles will thank you after that day of volleyball or fixing the back fence!
• Supports healthy circulation. Apply topically, perhaps with a little V-6 Vegetable Oil Complex or massage oil.
CITRONELLA
• Enjoy your summertime activities such as camping, barbecues, hiking, and the 4th of July festivities without pests! Nothing bugs bugs like essential oils! You can enhance the well-known pest repelling properties of Citronella by adding oils such as Cedarwood, Rosemary, Tea Tree, Myrtle, Clove, or Lemongrass to make your own special DIY spray. Use it during sporting events or while camping! Pro Tip: remember to spray your shoes and slacks, not just your arms!
• Some little-known uses of Citronella – 1) Historically used to deodorize and sanitize surfaces. 2) It is very supportive of the respiratory system, the digestive system, and the skin!
EUCALYPTUS GLOBULUS
• This essential oil has a long and rich history for supporting the respiratory system! Eucalyptus Globulus is from the large, aromatic eucalyptus trees of the Myrtaceae family. The tree's leaves are steam distilled to produce the earthy, fresh oil that is popular in personal care products and spa treatments.
• Eucalyptus Globulus is known for its cleansing properties and stimulating scent, and is often applied topically or diffused aromatically. In fact, Eucalyptus Globulus essential oil can be found in Young Living's Breathe Again Roll-On™ and R.C.™ essential oil blends.
• When diffused, Eucalyptus Globulus provides a refreshing atmosphere that's perfect for spaces where you study, meditate, or exercise.
• Pro Tip: for a sunshine scent in the kitchen or bathroom, place a few drops on a cotton ball and place in the bottom of the trash can before replacing the liner.
Grab these with your qualifying orders and make your life easier over the next few months!
FATHER'S DAY SPECIALS LEARN MORE!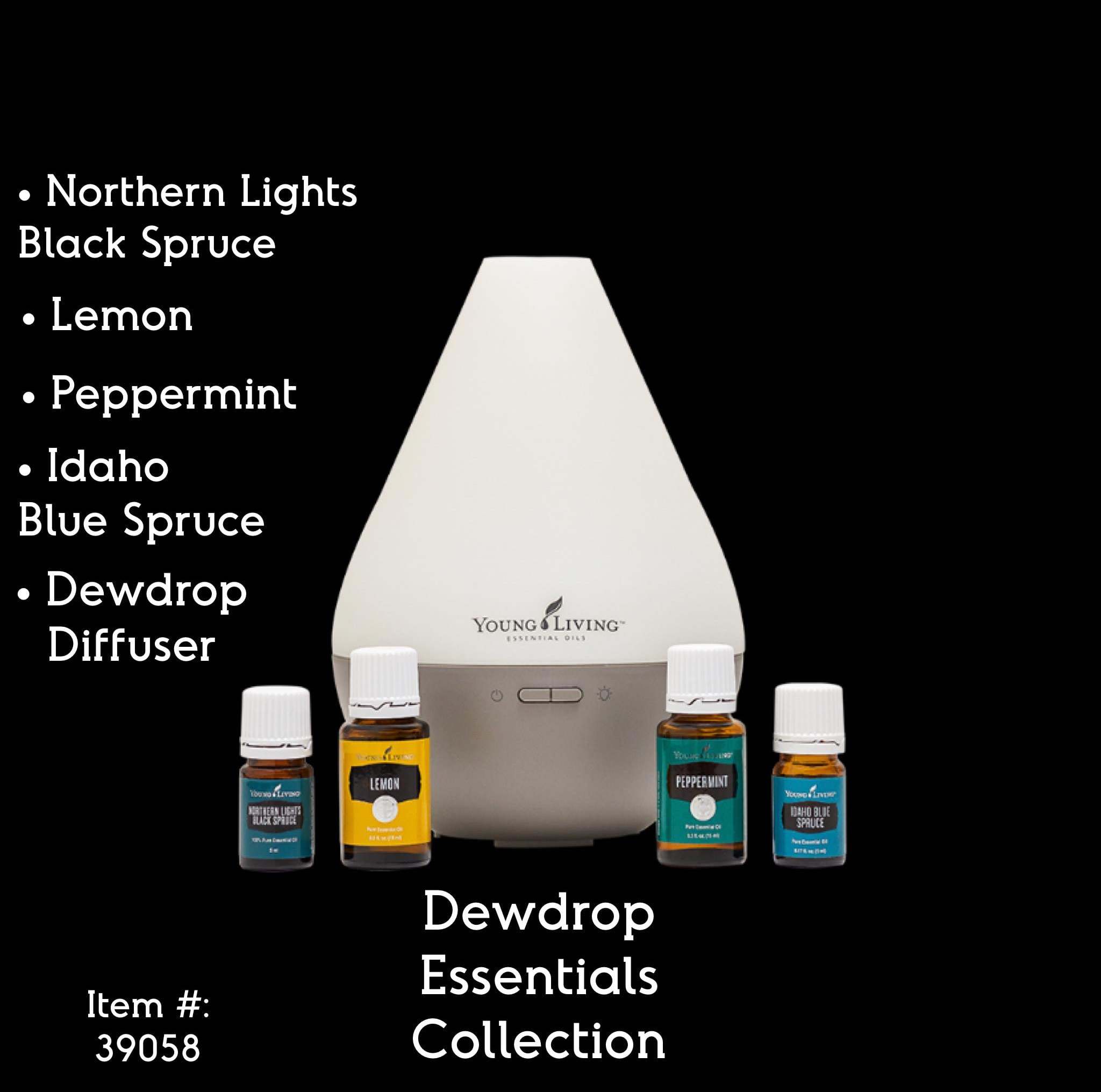 What's in the Collection? WOW!!
Northern Lights Black Spruce
Lemon
Peppermint
Idaho Blue Spruce and the free Dewdrop Diffuser! What a nice Collection!
This limited-time Father's Day collection is available June 1 at 12 midnight MT through June 13 at 11:59 PM. Item #39058 – NO LIMIT!!! Wholesale $91.25 - Retail $120.07 - PV 75.98
Available on SHOP AND ESSENTIAL REWARDS!
*** Essential Rewards orders must be processed between June 1 and 13! ***
IDAHO BLUE SPRUCE - 5ml
• Use this straight-from-nature aroma as a cologne, perfume or beard oil.
• Supports healthy testosterone levels in men. This is also a very calming scent!
• A VERY high frequency essential oil!
NORTHERN LIGHTS BLACK SPRUCE - 5 ml
• This was first distilled fat the farm in British Columbia in 2015. Gary bought this land and transformed a massive amount of trees into a working farm. He needed black spruce to complete some blends. What we also got is a phenomenal single oil. It has the Aurora Borealis overhead!
- Add a few drops to your favorite face cream to boost moisture. This oil is phenomenal for the skin!
- Mix it with your shampoo to bring the sensation of mountain breezes to your morning shower.
LEMON essential oil - 15 ml:
The question is – what CAN'T Lemon do?? Here are a few suggestions --
Use 6 drops of lemon oil and 6 drops of Purification oil in a spray bottle mixed with water to use as an air freshener.
Use 1-2 drops of lemon to remove gum, oil, grease spots, or crayon.
Add 2-3 drops of lemon to water and spray countertops to sterilize them.
Soak your dishcloth overnight in a bowl of water and a drop of Lemon oil to disinfect.
Add a drop of lemon oil to your dishwasher before the wash cycle.
Use a paper towel soaked with several drops of lemon to sanitize any surfaces.
Rub a drop of lemon oil to clean a butcher's block or other cutting surfaces.
Put 10-15 drops of lemon oil in each gallon of carpet cleaning solution to help pull out stains and brighten the rug. This also leaves a fresh smell in the room.
PEPPERMINT essential oil - 15 ml
- Cool off anytime, anywhere after working in the yard or exercising or a completing a fast game of tennis! Place on back of neck, behind ears, or on the body. Be sure to keep away from face, eyes, and any mucus membranes.
- Freeze a wet hand towel to which you have added drops of Peppermint. Take it out of the freezer and drape it around your neck. This will bring immediately relief in hot weather!
- Inhale Peppermint before and during a workout to boost your mood and reduce fatigue.
- Blend a drop or two with a small amount of V-6™ Vegetable Oil Complex and rub it into tired muscles.
- Sniff Peppermint to improve alertness and concentration
- Need to support some head tension? Simply put a few drops on the back of your neck!
Make that man in your life feel soooo special! Whether it's for your husband, dad, brother, uncle, grandpa, or just a good friend, he will so appreciate this Collection!! In fact, since there's no limit, get several for more of the men in your life!!!
Again -- it's Item #39058 – NO LIMIT!!!
Wholesale $91.25 - Retail $120.07 - PV 75.98
Available on SHOP AND ESSENTIAL REWARDS!
*** Essential Rewards orders must be processed between June 1st −13th! ***
Leave a Comment / Ask a Question
Subscribe to My Updates
Here's some information about the list that you're signing up for. It will populate the description from their account.
Free Email Class: Essential Oils 101
Learn all the basics on essential oils in my FREE Essential Oils 101 Email Course. I'll also share DIY beauty and skin care recipes, homemade cleaners and other practical uses for essential oils to help you save money too.
Ready to begin a healthier life?
Get a Starter Kit and SAVE!
Most of us begin our journey by choosing a Premium Starter Kit. The kits offer considerable value for your money (significantly lower than paying retail), and they contain enough full-size items to ensure initial success using Young Living.


Check It Out
For Home, health, & fitness
Products for Everyone!
These products celebrate the harmony between nature, body, mind, and soul. Have you noticed that walking through lavender fields or a pine forest seems to instantly awaken your senses — from the energizing aromas to the feelings of well-being the smell evokes? Young Living infuses this into everything they create.
Next Event Title
This is a description of the event pulled from the user's account, talking about how awesome it is going to be.