Little Oilers Premium Starter Kit
Did you hear the news? Young Living launched a new Premium Starter Kit—perfect for those of you who are interested in our amazing KidScents oils.
The Little Oilers Premium Starter Kit comes with our five popular Kidscents oils, as well as the adorable Feather the Owl diffuser, and two roller fitments. PLUS when you enroll as a new member before September 30, you will qualify to get our newest KidScents oil KidPower, for FREE! This kit is a match made in heaven for all adults who care for children.
What are the KidScents oils? KidScents oils come pre-diluted and ready to use on kids ages 2+. They are great for topical or aromatic usages. Use the included roller fitments for quick and easy application!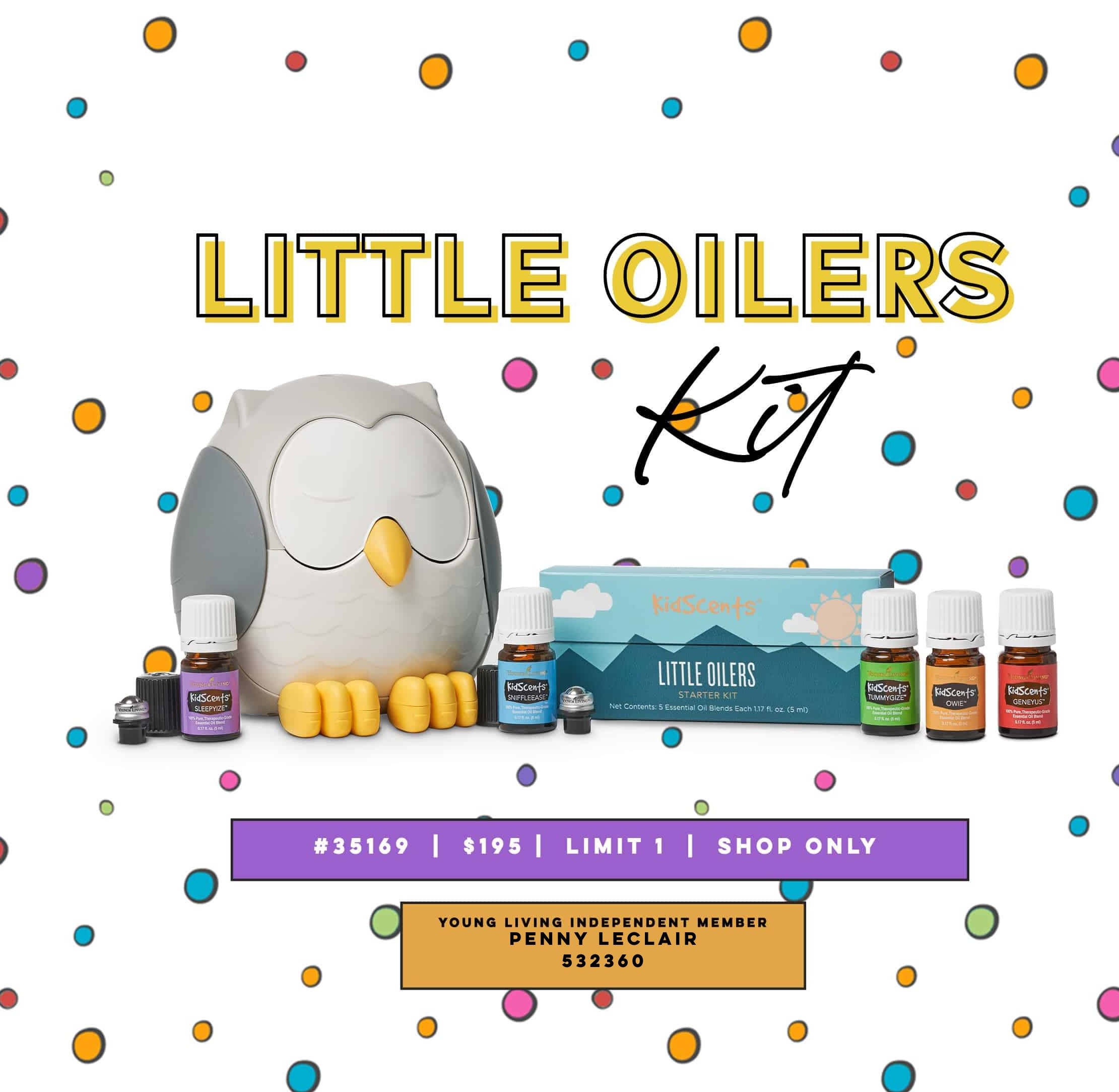 • KidScents Owie is formulated with 'skin-loving' essential oils, which makes this blend the obvious choice for those 'oopsie' moments. Apply topically to the skin where needed.
• KidScents SniffleEase contains oils that are refreshing and rejuvenating. This is the perfect oil to apply on your child's chest or spine because of its refreshing and rejuvenating aroma. This is also a great addition for your DIY chest rubs!
• KidScents GeneYus is a powerful blend of oils meant for creating a focus-filled environment. Diffuse this oil during study time/homework hour.
• KidScents TummyGize is an herbaceous blend that is relaxing and comforting-- apply to little tummies after large or unfamiliar meals.
• KidScents SleepyIze has an aroma that helps to create a calm and peaceful environment. Apply topically to temples, feet, and shoulders or diffuse at bedtime.
• KidScents KidPower* is a unique essential blend formulated to help inspire feelings of confidence, courage, and positivity. Apply to wrists or practice deep breathing before trying something new!
*BONUS through September 30,2020
We can't forget about Feather the Owl! This adorable diffuser is kid-friendly—it comes with a built-in night light and white noise machine. With ten different light colors, and 5 different sound options, this cute little owl will be the perfect addition to the family! To activate the diffuser, you simply tap the Easy-Touch Talons to filter through the 3 different diffuser modes.
Let me help you get yours!
Leave a Comment / Ask a Question
Subscribe to My Updates
Here's some information about the list that you're signing up for. It will populate the description from their account.
Free Email Class: Essential Oils 101
Learn all the basics on essential oils in my FREE Essential Oils 101 Email Course. I'll also share DIY beauty and skin care recipes, homemade cleaners and other practical uses for essential oils to help you save money too.
Ready to begin a healthier life?
Get a Starter Kit and SAVE!
Most of us begin our journey by choosing a Premium Starter Kit. The kits offer considerable value for your money (significantly lower than paying retail), and they contain enough full-size items to ensure initial success using Young Living.


Check It Out
For Home, health, & fitness
Products for Everyone!
These products celebrate the harmony between nature, body, mind, and soul. Have you noticed that walking through lavender fields or a pine forest seems to instantly awaken your senses — from the energizing aromas to the feelings of well-being the smell evokes? Young Living infuses this into everything they create.
Next Event Title
This is a description of the event pulled from the user's account, talking about how awesome it is going to be.