FALL and WINTER favorites!~
Stock up on all the essentials to make getting through Fall and Winter of 2020 a little easier! Here are some of my favorites that support a healthy immune and respiratory system!
BREATHE AGAIN
With a refreshing and rejuvenating aroma, Breathe Again™ Roll-On is the perfect companion for early mornings, long days, and tough workouts. This blend combines Copaiba, Myrtle, and Peppermint with four different types of Eucalyptus—including Eucalyptus Blue—to create a powerful, invigorating experience. Breathe Again includes ingredients that have the naturally occurring constituent eucalyptol and comes in a convenient roll-on applicator, so you can easily use it anytime, anywhere.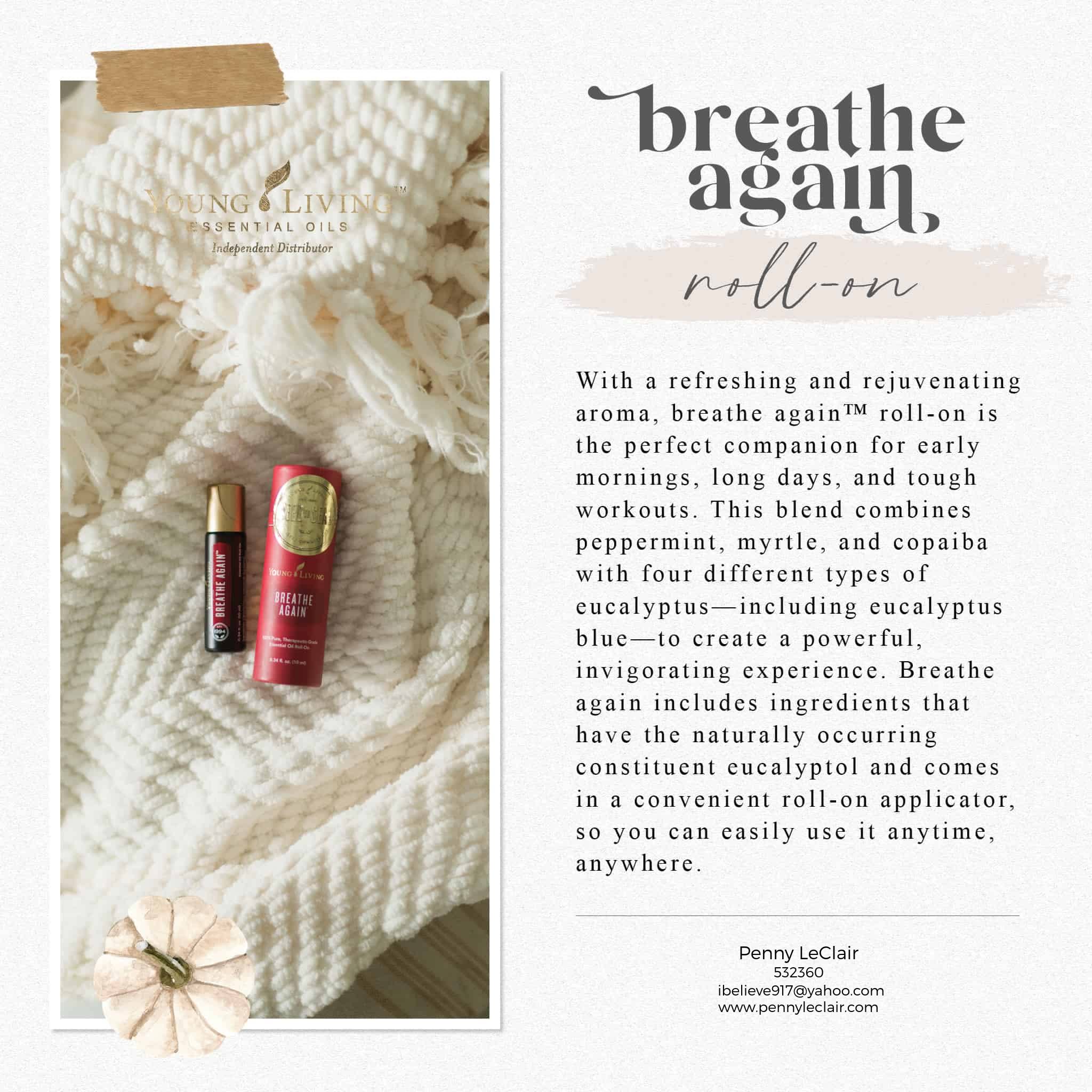 THIEVES ROLL-0N
Now warm and spice and everything nice can go with you wherever you go! Thieves® Roll-On comes prediluted and ready for application, so you'll never leave the house without it! Stuck in an airplane with recycled cabin air? Working in a musty, old office space? Hosting a play date for your kiddos? Swipe on some Thieves and you're good to go! You'll adore its ability to purify the air, take advantage of its topical cleansing properties, and fall in love with its cozy and comforting aroma.
THIEVES CHEST RUB
Conquer your seasonal cold the natural way with Thieves® Chest Rub. This 100 percent plant-based formula delivers over-the-counter strength with hands-free application for quick relief you can count on. Take control of your comfort and temporarily relieve cough and congestion with soothing aromatic vapors and powerful combination of camphor, menthol, and eucalyptus. Thieves Chest Rub helps reduce cough and is safe to use on family members ages 2 and up.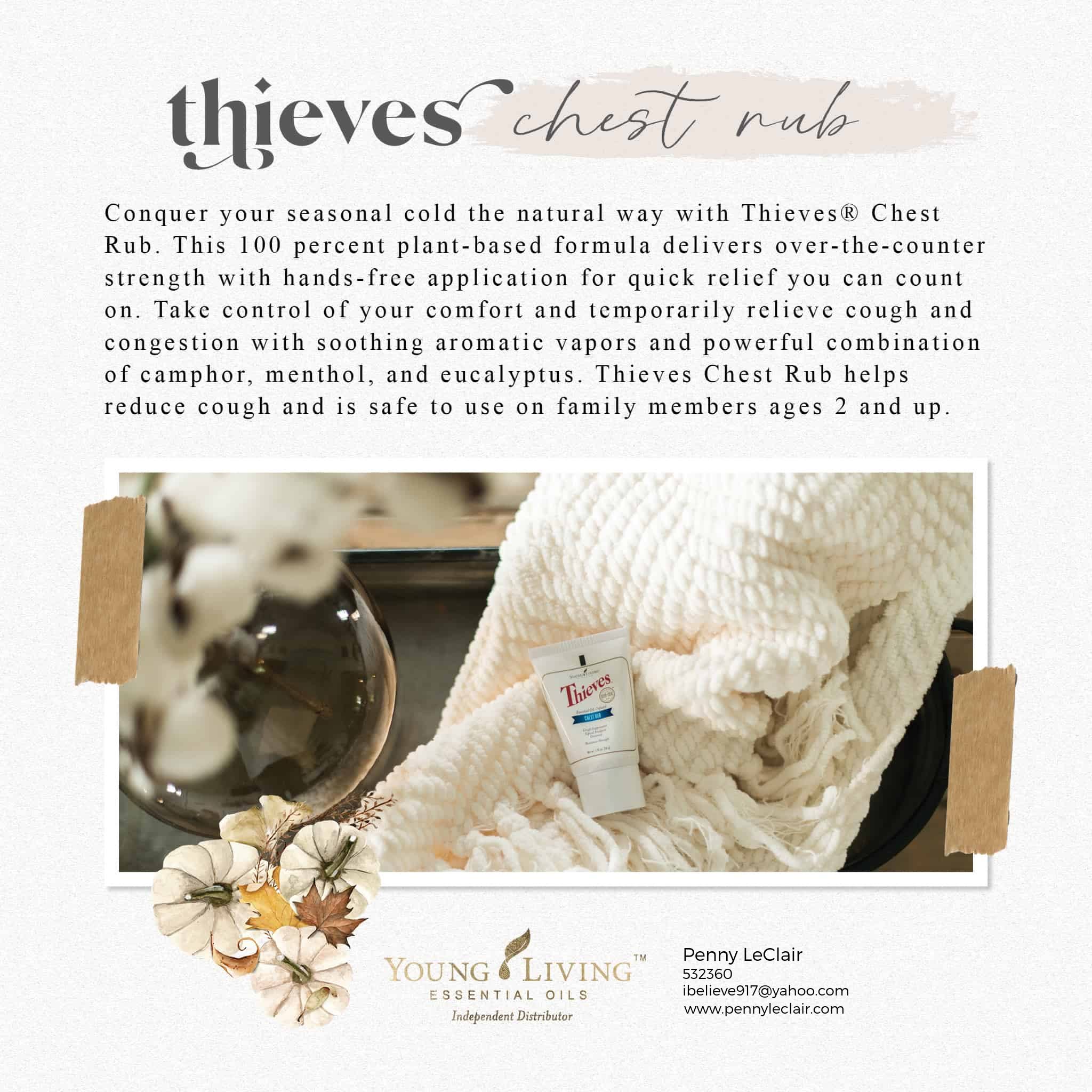 THIEVES COUGH DROPS
Experience the power of Thieves® and menthol in a cough drop! The triple-action formula of Thieves® Cough Drops offers comfort by relieving coughs, soothing sore throats, and cooling nasal passages. Minty, spicy, and sweet without processed sugar, dyes, artificial flavors, or preservatives, these cough drops are made with naturally derived ingredients, including Young Living's pure, therapeutic-grade essential oils and menthol from Peppermint. These tasty cough drops are easy to take anywhere you may need relief. Keep some in your purse, laptop bag, or next to your bed at night so they're always on hand to soothe.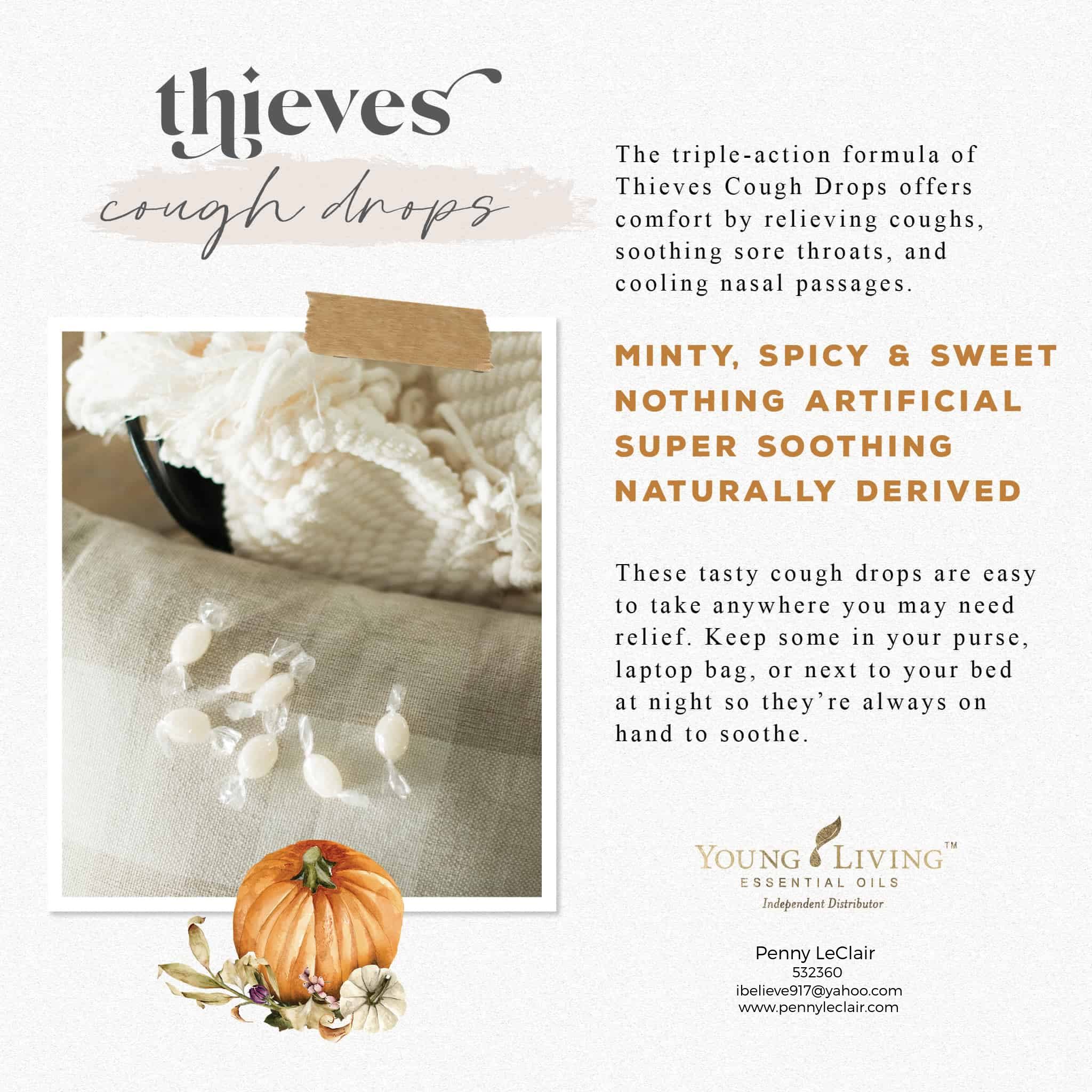 SUPER C
Super C™ not only contains 1,440 percent of the recommended dietary intake of vitamin C per serving, but it is also fortified with rutin, citrus bioflavonoids, and minerals to balance electrolytes and enhance the effectiveness and absorption of vitamin C.* The added essential oils may also increase bioflavonoid activity. Vitamin C is one of the most important vitamins required by your body. The ingredients in Super C play a role in normal immune and circulatory functions, help to strengthen connective tissues, and promote overall health, vitality, and longevity.* Because your body cannot manufacture vitamin C, you can benefit by consuming this powerful antioxidant daily.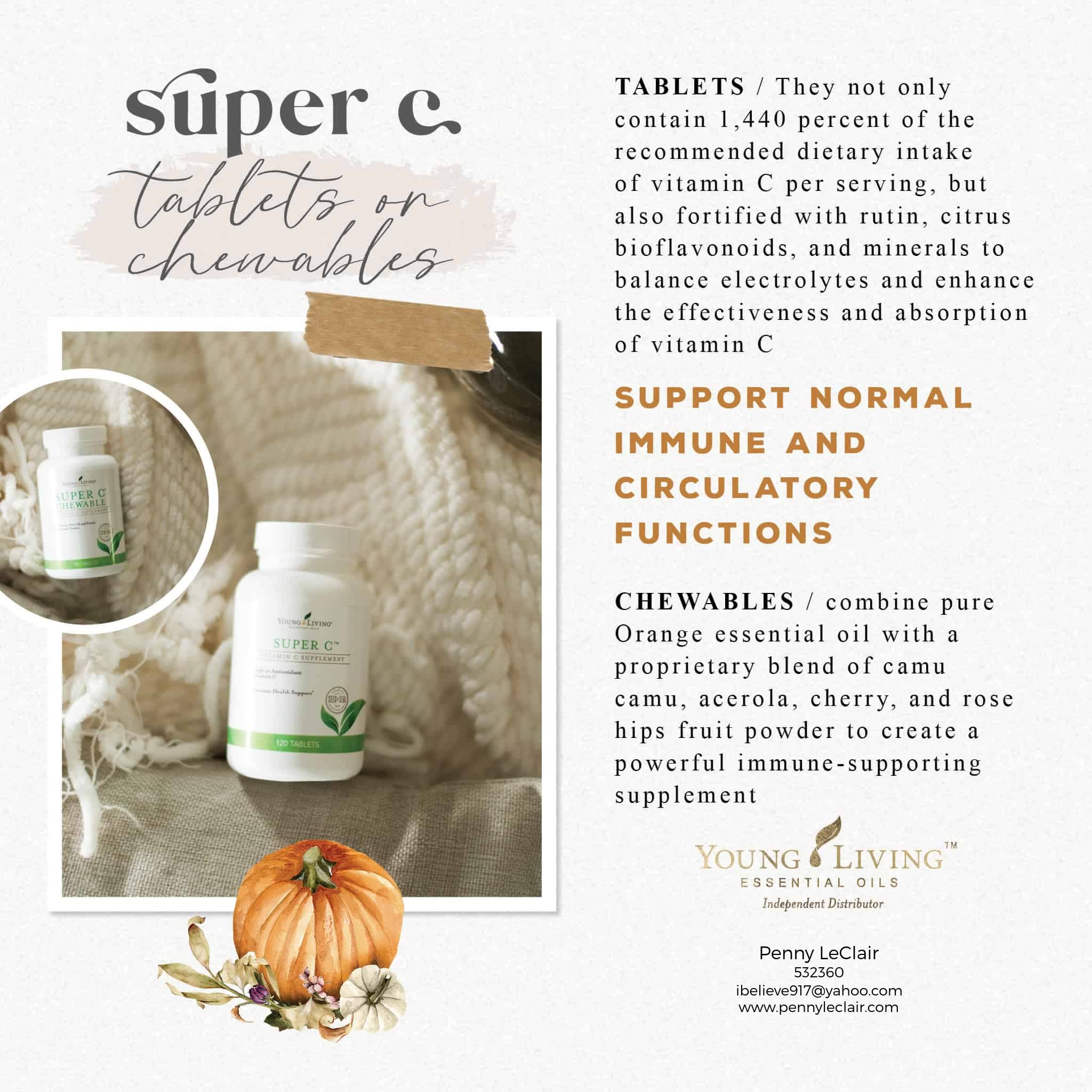 NINGXIA RED
Add a daily shot of NingXia Red® to your diet to enjoy the benefits of this powerful, whole-body supplement. This sweet and tangy drink includes wolfberry, which is touted for its health benefits. Also featuring plum, aronia, cherry, blueberry, and pomegranate juices and extracts, NingXia Red is packed with superfoods to support overall wellness. In addition to these antioxidant ingredients, NingXia Red includes pure vanilla extract and Lemon, Orange, Tangerine and Yuzu essential oils for a great-tasting, healthy treat.* The benefits of NingXia Red include support for energy levels, normal cellular function, and whole-body and normal eye health. A daily shot of 2–4 ounces helps support overall wellness with powerful antioxidants.* 750 ml bottles of NingXia Red are halal and kosher certified.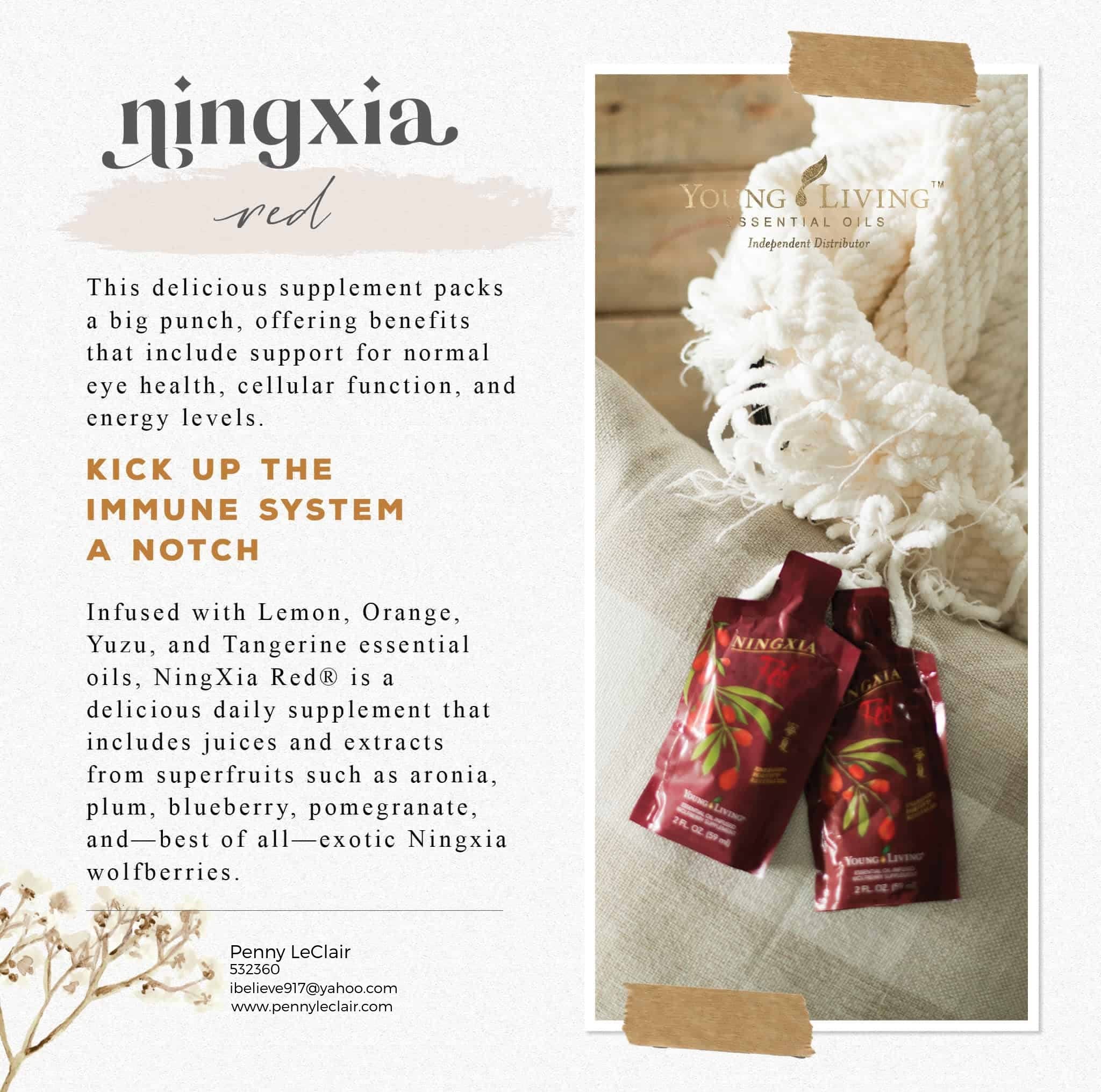 IMMUPOWER
ImmuPower is an essential oil blend that contains POWER PACKED EOs known to be potent immune system supporters that are good for keeping you and your family as healthy as possible all season long.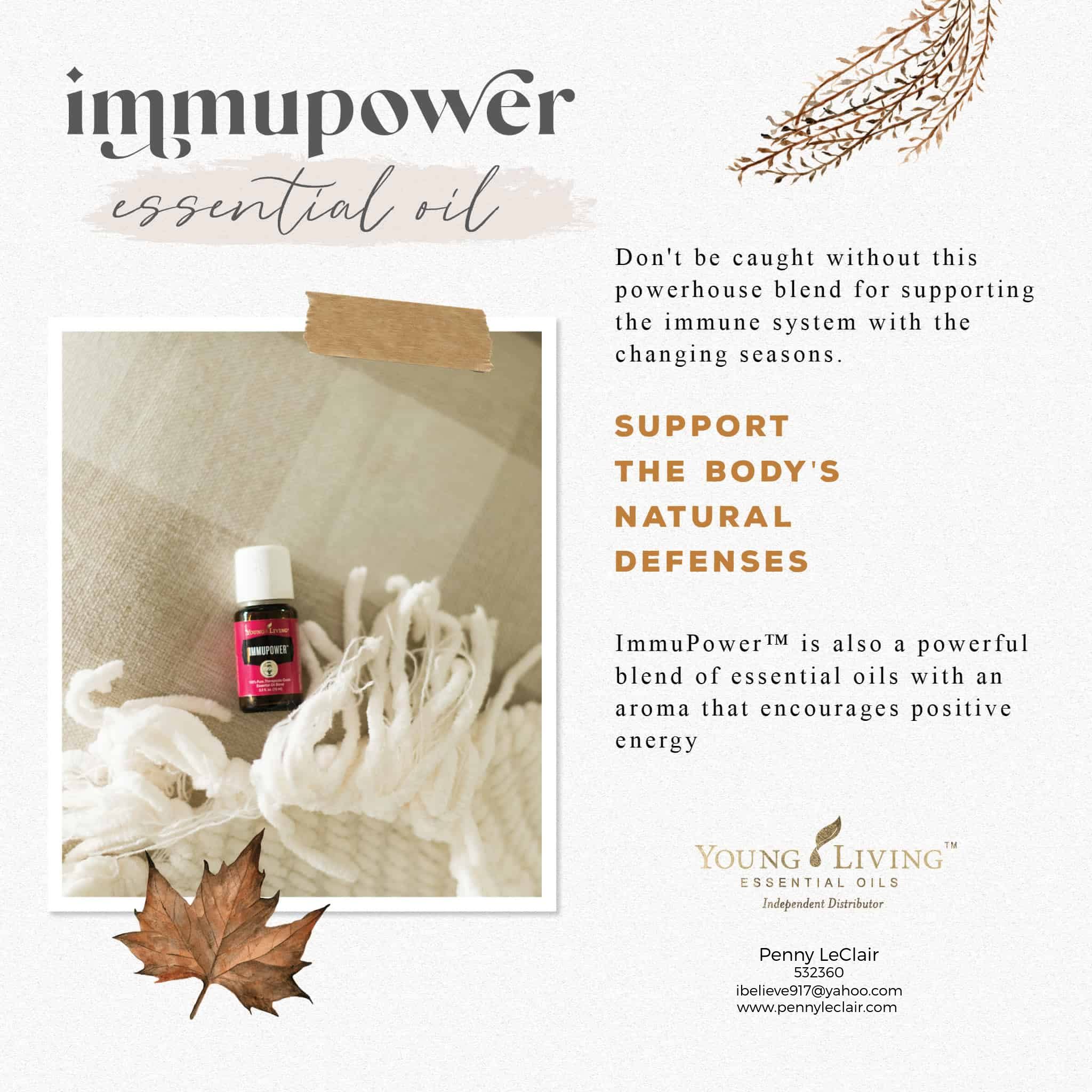 Connect with me and I can help you stay above the wellness line this fall and winter!
Leave a Comment / Ask a Question
Subscribe to My Updates
Here's some information about the list that you're signing up for. It will populate the description from their account.
Free Email Class: Essential Oils 101
Learn all the basics on essential oils in my FREE Essential Oils 101 Email Course. I'll also share DIY beauty and skin care recipes, homemade cleaners and other practical uses for essential oils to help you save money too.
Ready to begin a healthier life?
Get a Starter Kit and SAVE!
Most of us begin our journey by choosing a Premium Starter Kit. The kits offer considerable value for your money (significantly lower than paying retail), and they contain enough full-size items to ensure initial success using Young Living.


Check It Out
For Home, health, & fitness
Products for Everyone!
These products celebrate the harmony between nature, body, mind, and soul. Have you noticed that walking through lavender fields or a pine forest seems to instantly awaken your senses — from the energizing aromas to the feelings of well-being the smell evokes? Young Living infuses this into everything they create.
Next Event Title
This is a description of the event pulled from the user's account, talking about how awesome it is going to be.