<![if !mso]>

Hi FIRST NAME,
I'm back! It's time for us to pull out another super valuable oil from your kit and start using it. Hopefully, you've continued to use your other oils and are seeing fantastic results!
Today we are going to get out your bottle of Citrus Fresh Vitality™ oil. This oil blend is a must-have if you have any of the following: kids, teenagers, pets, trash cans, stinky basements, or dirty laundry. However, if none of these sound like something you need, then you still need this blend. Its basic properties include mental clarity, energizing, and purifying!
Combining Orange, Tangerine, Grapefruit, Lemon, and Mandarin oils with a hint of Spearmint, this blend offers an uplifting, refreshing aroma that you can diffuse to transform the home, work, and classroom spaces. Using it topically comes with the bonus benefit of the citrus oils working together to tone and smooth the appearance of skin.
I once heard it said that Citrus Fresh was somewhat like a "magic stink-eraser," and I love that analogy because it is true! But this oil blend is so much more, as can be seen by the two different bottles!
<![if !mso]>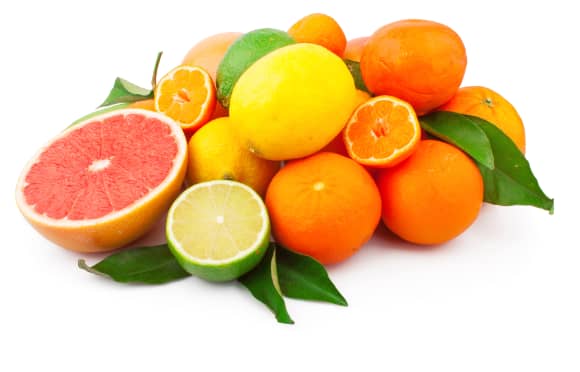 Again, I want to clarify the two different bottles of Citrus Fresh oils that Young Living sells:


Citrus Fresh™

Vitality™ Seed to Seal® Premium Essential Oil Supplement
Citrus Fresh™ Seed to Seal® Premium Essential Oil
The classic oils and the corresponding bottles of Vitality oils contain the very same oils. However, Vitality oils are labeled for dietary use, and the classic essential oils are labeled for topical and aromatic use. The white-labeled bottles are the "Vitality" oil supplement.
Your kit came with the Citrus Fresh™ Vitality™ oil.
<![if !mso]>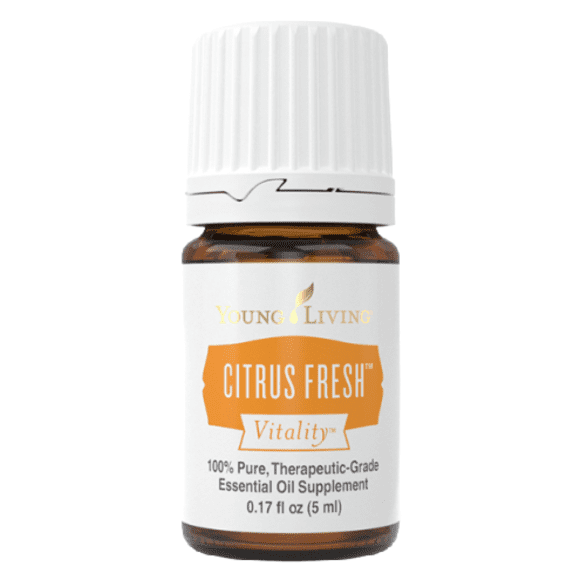 Citrus Fresh Vitality (Included In Your Kit)
<![if !mso]>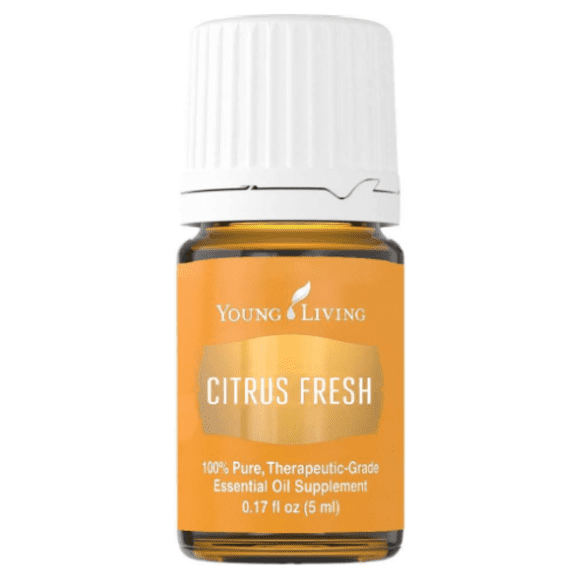 Citrus Fresh Blend
Do this first...
I am going to bet you have already opened this bottle and smelled it! You might agree with me that this one smells great. I absolutely love the fresh & "alive" aroma it has.
Grab your diffuser for this one. Set it up with 8-10 drops of Citrus Fresh and start diffusing.
While it is diffusing, leave the room for about 5 minutes and then come back in. Doesn't that smell fresh & clean? It does, and you can feel wonderful that the beautiful aroma is not full of chemicals!
Then try this...


Dilute with any scent-free carrier oil, such as fractionated coconut oil or grapeseed oil, and wear as a perfume! If you like this, you can mix up any blend in a 5 or 10 ml roller bottle and create customized scents.
<![if !mso]>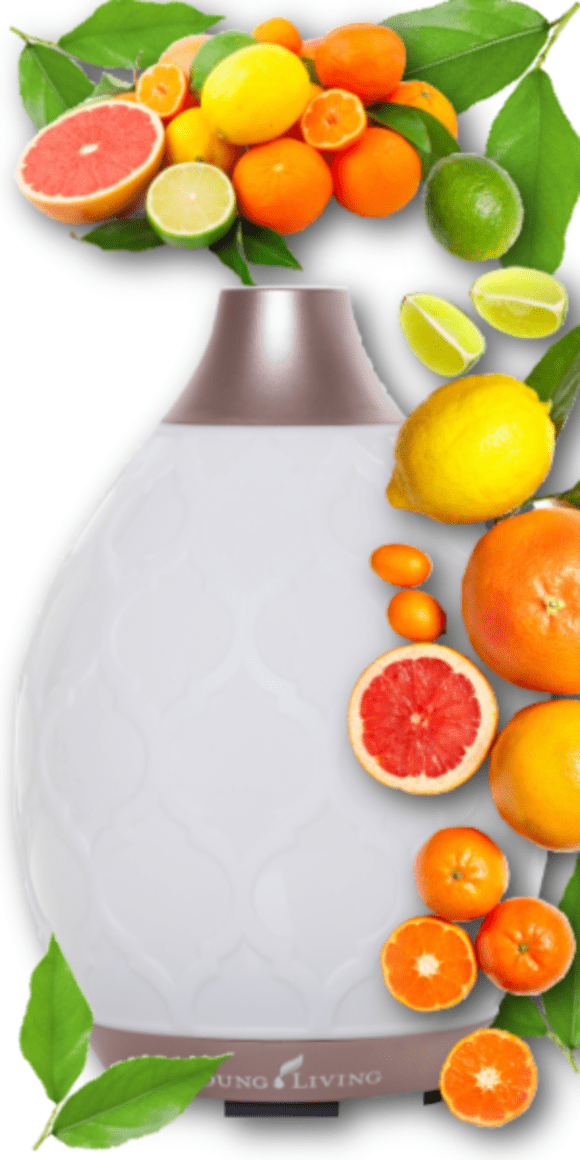 Remember to exercise caution when using any citrus oils on skin exposed to the sun. I'd recommend not applying this particular blend to your neck area if you are going out in the sun.
You can purchase 10 ml roller bottles on Amazon, Abundant Health, or Life Science Publishing. Or better yet, recycle your empty 5 and 15 ml oil bottles and purchase roller fitments from Young Living and make a roller bottle.
Secret, even though this one is labeled for internal use, it is the same oil as is in the other bottle, and you can diffuse it if you'd like, and I'll bet you'll love it.
<![if !mso]>

Citrus Fresh Vitality...
This invigorating and pleasant blend is an ideal addition to water, fruit and vegetable juices, and NingXia Red®. Add a drop or two to your 2-oz. serving of NingXia Red for a zip of flavor and freshness.
Yes, Citrus Fresh Vitality tastes great, but it also makes a great dietary supplement! Just add 1–2 drops to a vegetarian gel capsule and take as needed to support general wellness.
Use Citrus Fresh Vitality in recipes such as fruit salads, salad dressings, and marinades to enhance the flavor.
Add a couple of drops to your favorite Young Living nutritional products and supplements such as Slique Tea, NingXia Zyng, NingXia Red, and Mineral Essence.
Citrus Fresh Blend...
Dilute Citrus Fresh essential oil in a 1:1 ratio with your favorite night moisturizer and apply to skin for smoother-looking, more radiant-looking skin. Because some citrus oils can cause photosensitivity, avoid applying to exposed skin before spending time outside.
Diffuse Citrus Fresh in your home, office, or classroom for an aroma that invites positivity and energy.
<![if !mso]>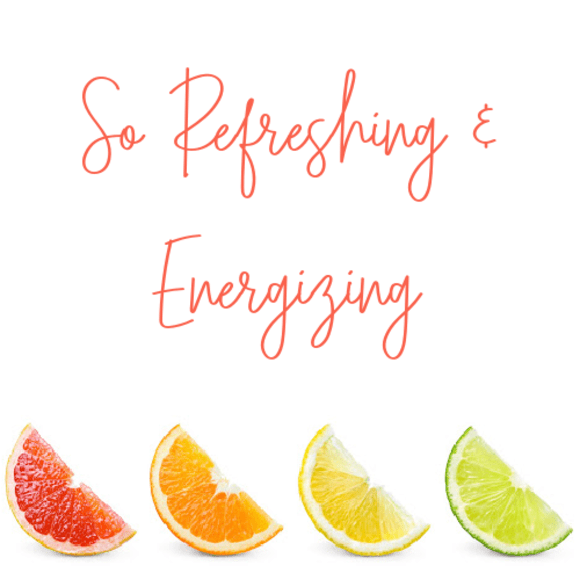 Create an on-the-go air freshener with a spray bottle, distilled water, and Citrus Fresh. Keep it in your bag to freshen up offices, public restrooms, hotel rooms, and cars.
Add 10 drops of Citrus Fresh and 10 drops of Peace & Calming to a 10 ml bottle, top off with the scent-free carrier oil of your choice, pop the roller on top, and voila, you've made your own all-natural perfume!
<![if !mso]>

Perfect replacement...
Now you can ditch overpowering and harsh chemical-based sprays and keep your home smelling fresh and clean, using all-natural ingredients!

Combine a few drops of Citrus Fresh essential oil with distilled water in a glass spray bottle and spritz throughout rooms, closets, and over linens. You'll enjoy the uplifting citrusy scent every time you make the bed or open a closet door.

Add 10 drops to an 8-ounce bottle of distilled water, shake well, and spritz onto clothing, carpet, or other fabric to freshen things up, like odors, including cigarette and pet odors.

Have you ever cooked fish, broccoli, or some other odiferous foods, and just as you get dinner cleaned up, someone comes over? This used to mortify me. I used to apologize because it genuinely does stink when you walk into it after the fact!

Now you will never need to feel embarrassed by foul odors from cooking, laundry, pets, or anything else life throws your way. Diffuse Citrus Fresh or even spritz it in the rooms throughout your house or use the spritzer to target a few specific places.

Feel proud. Here's to you using your Citrus Fresh! Make up a small spritzer of it and let a friend try it too!
More than smells good...
Again, as is sometimes the case, there is just so much that I want to say about this blend, but the FDA limits what I can say.
You could certainly do a Google Images search for "Young Living's Citrus Fresh Essential Oil Blend" and see how some people are using this blend. Just be careful not to share any images that contain health or disease claims.
Additionally, these constituents all naturally occur in the Citrus Fresh Essential Oil Blend. Doing a short Google or DuckDuckGo search for each of these words will undoubtedly open your vision to the value of this blend. And understanding why it also comes in the Vitality line of oils (for ingestion) - far more significant than just helping things smell fresh!
limonene

beta-pinene

linalool
<![if !mso]>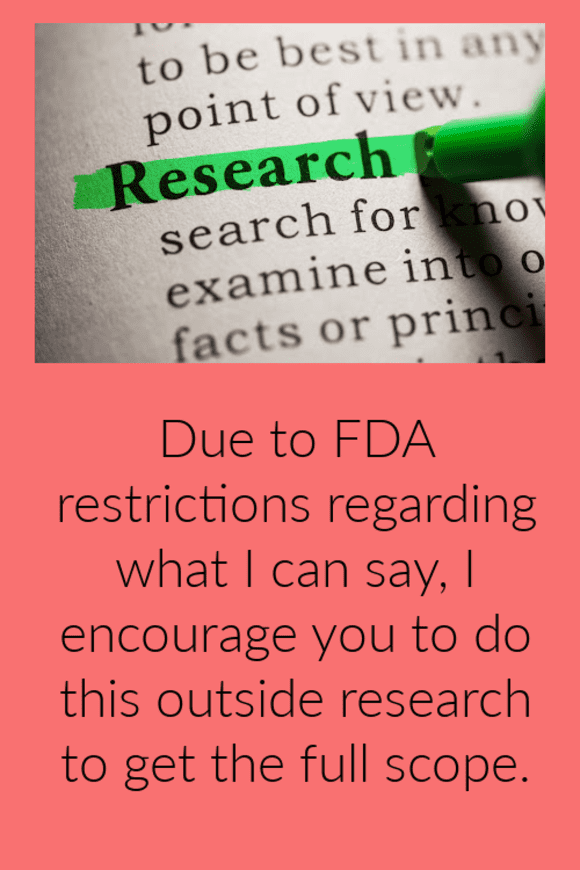 I hope you're enjoying the information I'm sharing. As always, I'd love to visit with you if you have questions!
In Good Health,
Essenty
Always keep ALL essential oils out of reach of children who might be too young to understand that these oils are very powerful. Please treat all essential oils with respect and care as you would with anything else that you are supposed to keep safely away from children. I would suggest locking them up or keeping them well out of reach until your children or grandchildren are old enough to understand how to use them properly.
*These statements have not been evaluated by the Food and Drug Administration. This product is not intended to diagnose, treat, cure or prevent any disease.