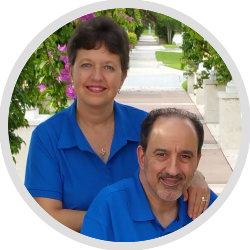 Welcome to our site!
We're so happy you stopped by. It is with great pride that we are able to share the most authentic essential oils in the world with you.
We joined Young Living in 2012 and over the past few years, Young Living's products have become an ever-increasing part of our lives. The more we use them the stronger our passion grows for sharing these amazing oils and oil-infused products with the world.
Young Living is the world leader in essential oils and no other company comes close to the quality, potency and purity of their products. From a business point of view, their commitment to integrity and support is unsurpassed, and their compensation plan and rewards program are extremely generous.
If results are important to you, we hope you will spend some time reading a bit on our website. Authenticity is certainly most important, not only for the bottles of oils, but for the oil-infused products as well. If all of your questions haven't been answered here, please don't hesitate to reach out to us! We are proud to represent Young Living and would be honored if you gave us the chance to introduce you to their products and/or business opportunity.
Wishing you Health, Wellness and Abundance!
Roseann & Michael Babboni