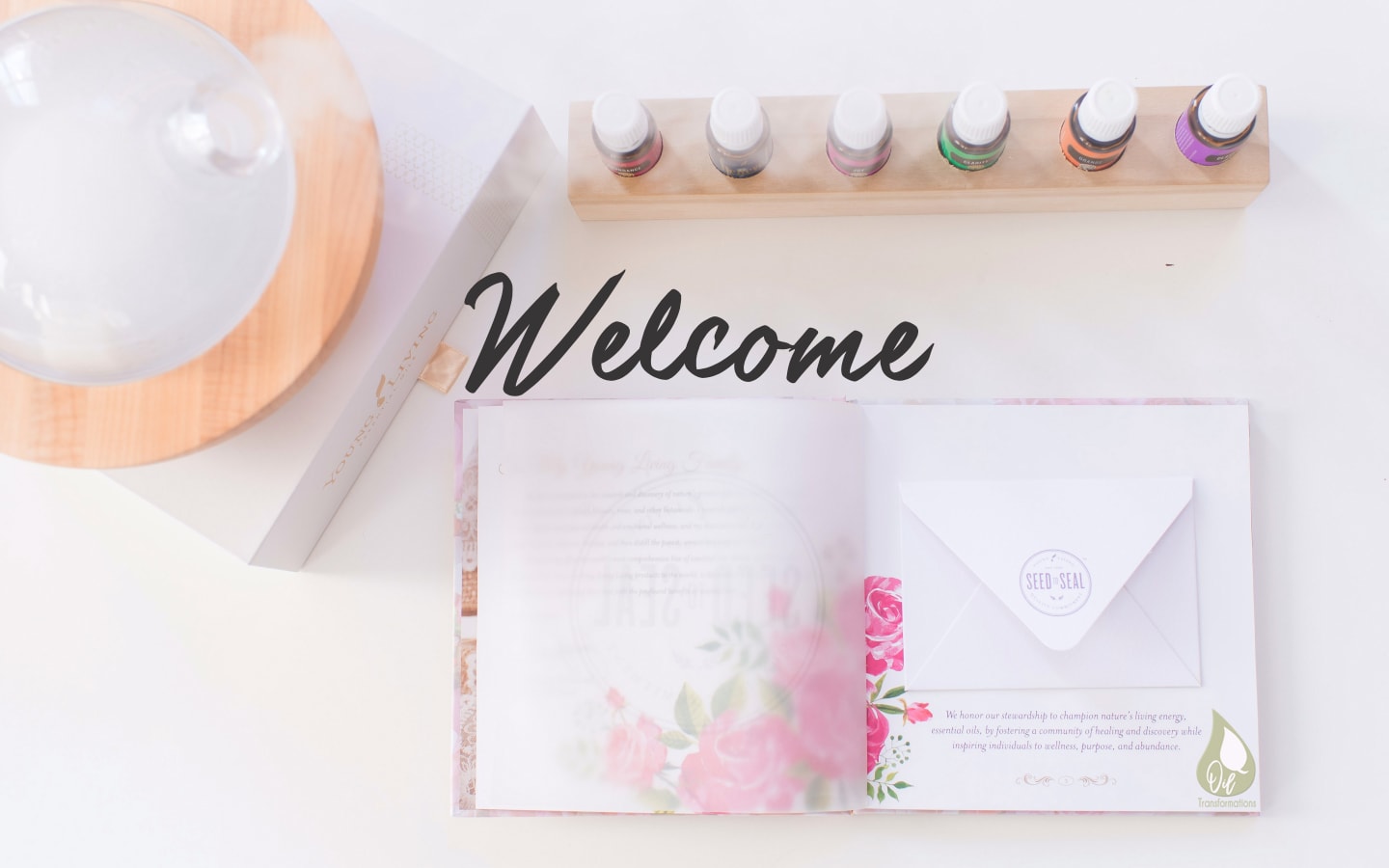 It is safe to say that you have heard of, and maybe even used, a product or two from companies like Revlon, Maybelline, Aveeno, Dove, Estee Lauder, L'Oreal, or The Body Shop. Many of these products have so many unknown ingredients, as opposed to the limited number of known, natural ingredients. They also cost a lot more than you will spend to make your own.

Do you know anyone with cancer? Trouble getting pregnant? Children, who are behind developmentally? Friends who are exhausted ALL. THE. TIME.? Are you raising your hand yet? Removing harmful chemicals from their daily routine is not a 100% guarantee that they will be free from all these health challenges, as there are a lot of different factors involved in them.

Still, we owe it to ourselves and our loved ones to remove harmful chemicals and do everything we can to buy one more day with our sons or daughters, one more day with our parents or grandkids, or one more day with our best friends or spouses. Would it be worth it to you to do everything you possibly can to be as healthy as possible?

One really SIMPLE and RELIABLE way to have products that are safe and free from harmful chemicals is to make them yourself! Making your own products and infusing them with Young Living pure essential oils is a COST-EFFECTIVE way to get premium products. BETTER products for a FRACTION of the cost.
Facial Cleanser
Regular cleaning is an important part of healthy, youthful skin; however, you can overdo it. Dermatologists agree that over-washing can lead to irritation and lack of moisture. If you have overly oily skin, you should wash your face in the morning and evening; if your skin is on the drier side, stick to once daily, in the evening. Always wash your face after workouts to prevent breakouts.

TIPS to get the most out of your cleanser.
1) Take your makeup off before you cleanse. Most cleansers won't remove all of your makeup, so start with an oil-based makeup remover. My favorite is the Mirah Luminous Cleansing Oil, a little goes a long way and it leaves the face soft and glowing!
2) Avoid drastic temperature changes while cleansing. According to dermatologists, that whole "Wash with HOT to open your pores and then finish with COLD to close your pores" thing is a myth and it can actually cause irritation.

3) It is a good idea to cleanse your face in the shower. Mild steam can help soften hardened oil in pores.

4) Alternate your cleanser three times a week with a gentle face scrub. Do more or less depending on how your skin feels. The Satin Mint Facial Scrub is A-MA-ZING for exfoliation and it's so invigorating! The exfoliating beads are made of jojoba beads, which are gentle yet effective and refreshing. A total life hack to wake up quickly!
During the winter months, I know MY skin needs some EXTRA lovin'. Adding Jojoba oil to your cleanser can give it just the love it needs. Oh, and by the way, Jojoba is pronounced ho-ho-ba. Who here has been saying that wrong this WHOLE TIME?

Jojoba oil has anti-inflammatory properties that help to tame chapping, reduce redness caused by drying, ease the effects of eczema and rosacea, and keep skin calm and comfortable. The Vitamin E and B-complex vitamins in the Jojoba oil help in skin repair. One other positive feature of Jojoba oil is its similarity to human skin oils, its use can trick the skin into thinking it has produced enough oil and thus will balance oil production without promoting acne or other skin problems.

Essential oil benefits.
Frankincense gives your skin a youthful appearance.
Lavender essential oil is calming, soothing, and cleansing to the skin.
**************************************************
FACIAL CLEANSER RECIPE
INGREDIENTS
½ cup unscented Castile soap
1 cup distilled water
2 Tbsp. jojoba oil or sweet almond oil
15 drops Lavender essential oil
15 drops Frankincense essential oil

DIRECTIONS
Combine all ingredients into a 16 oz jar, mix, and enjoy!
**************************************************

I found some really pretty "foaming soap containers" on Amazon. I love that one pump is all I need to cover my face and neck and since it comes out as a rich lather, it saves time too!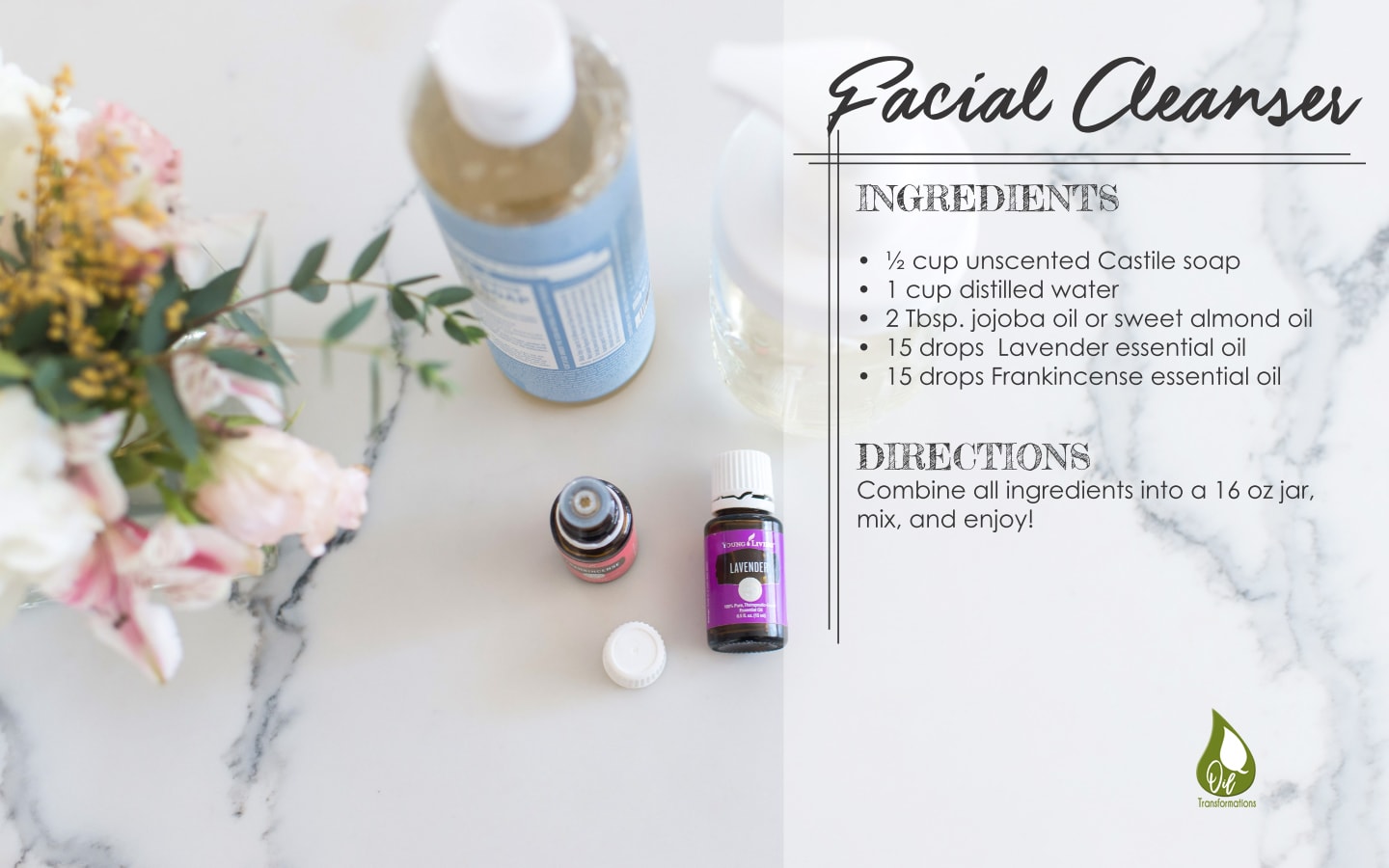 **FUN IDEA**
Have a DIY Make N' Take get-together with a few friends. Make your own mini facial cleansers to take home. Search "50ml Mini Foaming Soap Dispenser" on Amazon to see what is available for container options.
**************************************************
MODIFIED RECIPE - 50 ml foam dispenser.
1 Tbsp unscented Castile soap
2 Tbsp water
½ tsp jojoba oil
3 drops Lavender essential oil
3 drops Frankincense essential oil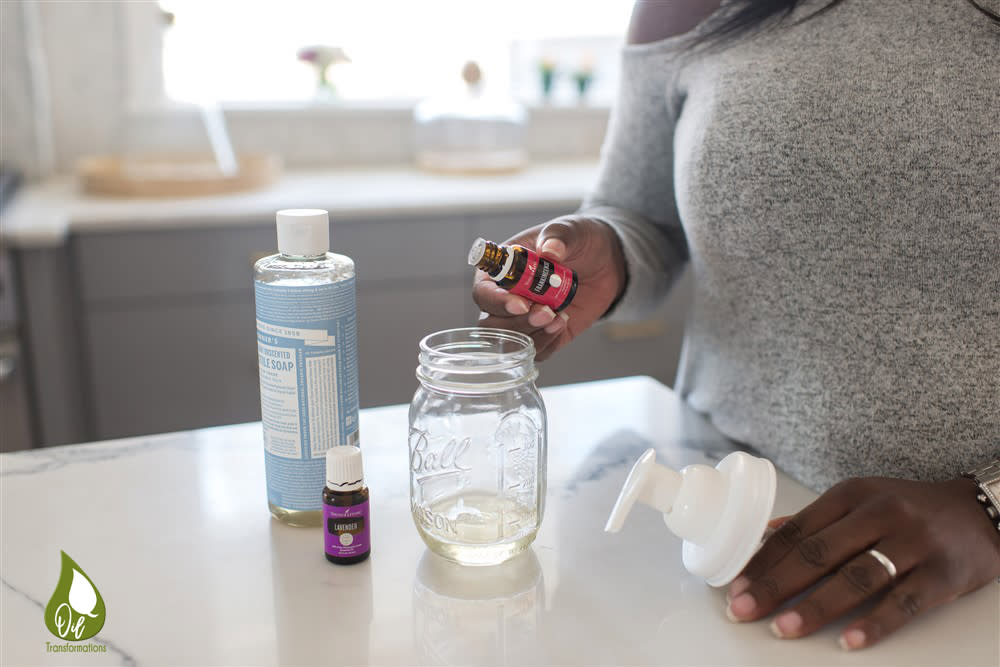 Facial Toner
Do you feel like you're doing all the right things but your skin is STILL oily!? Using a toner may help.

The biggest argument in favor of using a skin toner is that it restores your skin's pH balance. Due to the alkalinity of soap, it causes our skin to be less acid after cleansing. When the skin needs to work in overdrive to regain its more acidic natural pH level between five and six, it may overproduce oil. Using a toner can help quickly return your skin to its proper pH level.

An alcohol-based toner strips off natural oils, so it is important to use a gentle alcohol-free toner. Make your own toner with a few easy-to-get, highly beneficial ingredients and essential oils that will transform this average toner into a premium product. Use your toner after cleansing and before moisturizing.

Vitamin E is both a nutrient and an antioxidant. Vitamin E oil prevents the formation of wrinkles by blocking free radical damage. It treats wrinkles by boosting collagen production, a connective tissue that keeps skin elastic and supports new skin cell growth and speeds up cell regeneration. If you are more prone to acne, use less or omit this from the recipe, as it is heavy on your skin.

https://www.livestrong.com/article/25515-benefits-vitamin-e-oil-skin/

Witch hazel is a plant native to North America and parts of Asia that has been used for centuries for its skin-soothing properties. Its powerful antioxidant and astringent benefits are known to help speed healing, prevent signs of aging, stop cellular damage that can lead to skin cancer, and eradicate bacteria that live within the pores of the skin.

Essential oil benefits.
Frankincense gives your skin a youthful appearance.
Tea tree has been used for centuries by the aborigines to cleanse the skin. Caution: this oil can be drying to the skin.
Cypress supports healthy skin. *Use with caution during pregnancy, Ylang Ylang may be substituted.
Geranium promotes healthy, clear, glowing skin.


************************************************
DIY FACE TONER RECIPE
INGREDIENTS
2 oz container of choice
2 oz Witch hazel
½ tsp Vit E oil
3 drops Frankincense (optional)
3 drops Tea tree (optional)
3 drops Cypress
3 drops Geranium

DIRECTIONS
Fill 2 oz bottle ¼ an inch from the top with witch hazel. Add Vit E and essential oils. Shake well before use.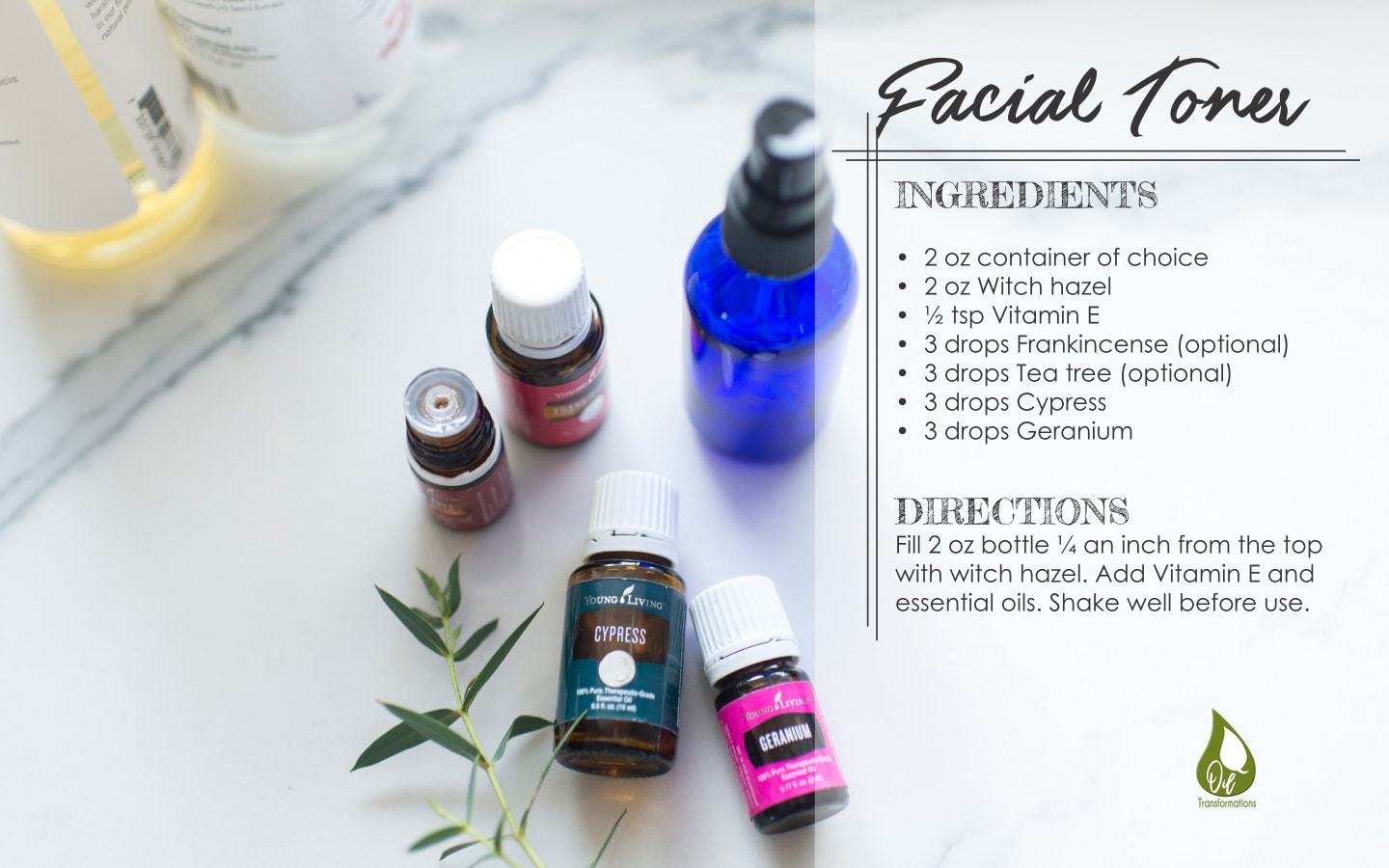 ***************************************************
Mud Mask

Are you dying for a relaxing SPA treatment? Making your own mud mask is an affordable way to feel pampered and treat your skin to what it deserves.

The minerals in mud are highly effective for absorbing oil from deep within the pores as they dry, trapping oil in the mud. Mud is often used to detoxify and tone skin and is used as an anti-inflammatory agent for skin disorders.

Some other benefits of mud include: reducing signs of aging, improving circulation, shrinking large pores, rinsing away blackheads, and helping to clear acne. Please note that the mud will draw out some moisture from your skin as it dries, so it is recommended that you follow up with a moisturizer. ART Light or Intensive Moisturizer are two great moisturizer options from Young Living's skincare line.

http://www.hometownstation.com/santa-clarita-news/health-and-beauty/what-can-mud-do-for-your-skin-27038

Essential oil benefits.
Spearmint moisturizes and refreshes the skin.
Tea Tree has been used for centuries by the aborigines to cleanse the skin. Caution: this oil can be drying to the skin.
Lavender has a calm and soothing effect on your skin.
*******************************************
MUD MASK RECIPE

SUPPLIES/INGREDIENTS
Bowl for mixing
4 oz canning jar
About ¼ cup dead sea mud
1 drop Spearmint
1 drop Tea Tree
1 drop Lavender

DIRECTIONS
Apply a thin layer of mud mask on cleansed skin.
Leave the mask on your face for at least 15 minutes, or until it dries.
Avoid facial gestures while the mask is on your face. The mask may crack.
After 15 minutes, rinse your face with warm water.
*******************************************
Amazon is a great place to order Dead Sea mud for your mud mask. Search for 100% Dead Sea mud.

Eye serum

What is the goal of an eye serum? To firm your eyes, decrease wrinkles, and reduce bags and dark circles under your eyes. RIGHT!? No one wants to look in the mirror and be reminded of a raccoon or think, "OMG, it looks like I haven't slept in DAYS!"

NOPE. Not me. Time to say BYE BYE to sad eyes and HELLO to bright eyes.

One celebrity secret is argan oil, but you definitely do not have to be a celebrity to take advantage of this one. It is non-greasy and non-irritating, which makes it a great natural moisturizer to hydrate and soften skin and reduce the visibility of wrinkles. SIGN ME UP! With its high vitamin E and fatty acid content, argan oil is ideal to give skin a natural boost. YES. PLEASE.

Almond oil is very popular in Southeast Asia and in the Mediterranean region where the almond tree was first domesticated. It has gained huge popularity in the beauty industry. Here are two of the main reasons I like to use it: first, it creates smooth skin, and second, it reduces dark circles under the eyes. According to an article released by "Natural Living Ideas," some see reduced dark circles in as little as two weeks after applying under the eyes regularly.

http://www.naturallivingideas.com/sweet-almond-oil-benefits/
Essential oil benefits.
- Sacred Sandalwood is very similar to Frankincense. Calming and soothing. It provides a youthful appearance to your skin.
- Blue tansy is a rare botanical in the chamomile family. It has become celebrated for its use in luxury skincare products. It contains skin-cleansing and moisturizing benefits.
- Geranium promotes healthy, clear, glowing skin.
- Frankincense is popular for its ability to maintain radiant skin and to smooth the look of healthy skin.
- Lemon contains antioxidants and is refreshing, cleansing, and beneficial to skin.
**************************************************
EYE SERUM RECIPE

SUPPLIES/INGREDIENTS
2 oz dropper jar
1 oz Almond oil
1 oz Argan oil
3 drops Blue tansy or 3 drops Sacred Sandalwood
10 drops Geranium
10 drops Frankincense
5 drops Lemon - Add only for a nighttime eye serum as Lemon oil can cause sun sensitivity.

DIRECTIONS
Fill 2 oz container with Almond and Argan oil.
Add in essential oils and mix.
Use ring finger to apply under eyes in am and pm.
**************************************************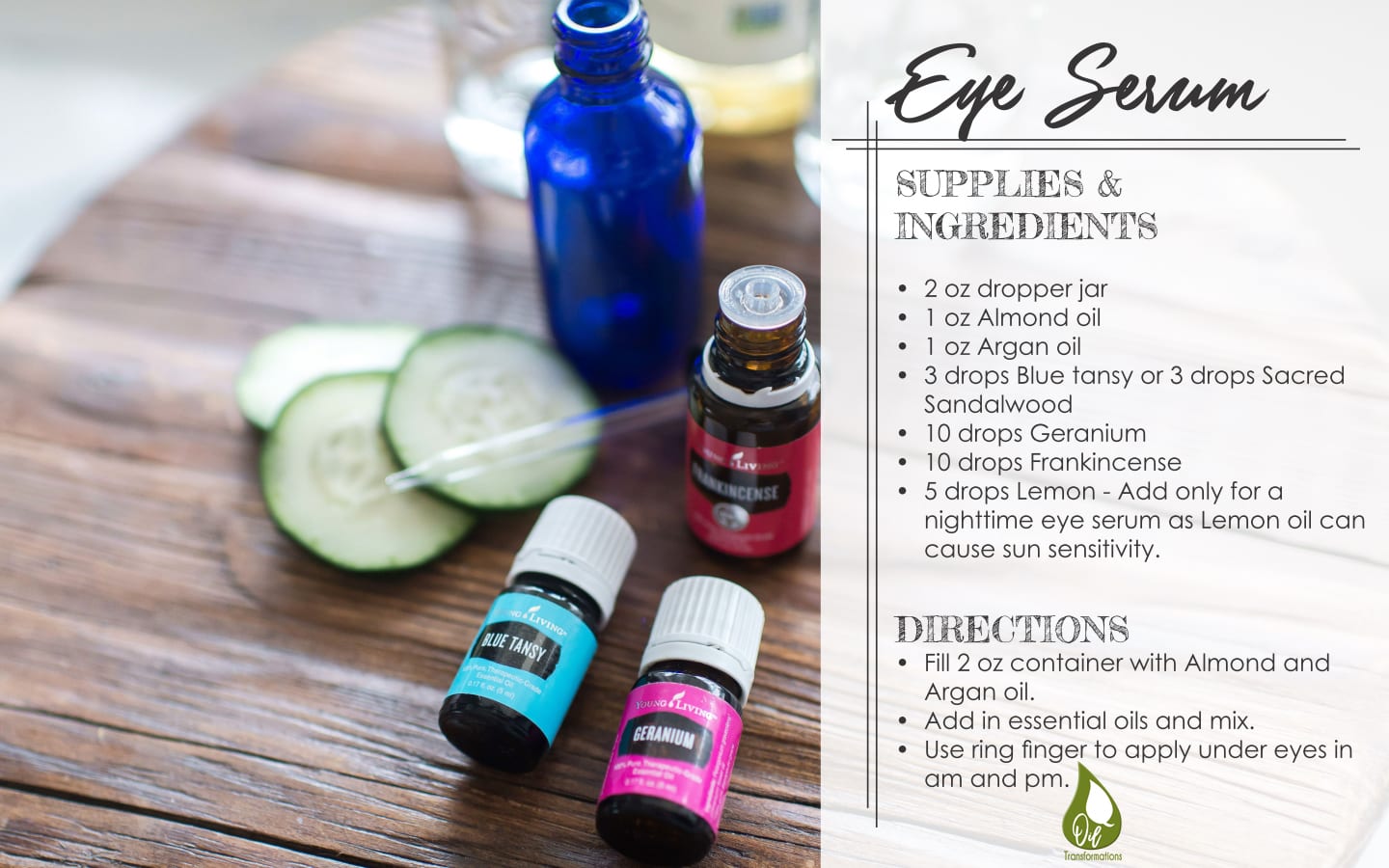 You're invited!
Now that you have experienced this DIY Skincare "class" virtually, I would like to invite you and 5 friends to a DIY class at my home where we will make these AWESOME GOODIES! Leave all the ordering and organizing to me. You are going to have so much fun and love these products when they leave your skin feeling refreshed, moisturized, smooth, and youthful.

Send me a message and I'll connect with you about dates.

If you are not local to me but love the idea of a fun hang out with your friends making some amazing products, let me know and I can help you set up your own Make N' Take.
Thank you so much for attending "class". I can't wait to connect with you!
Before you go, I wanted to also share where you can get these amazing oils and...

NEVER PAY FULL PRICE!
It Pains Me to Pay Full Price for Anything
Part of the reason I DIY is because it's cost-effective and I know exactly what is in my homemade products. My research pointed me Young Living oils for their authenticity & purity. When I began my journey, I went for the most bang for my buck and got one of the Premium Starter Kits (PSK). What sold me was the oil kit with a diffuser, 12 oils, (many are in the DIY Skincare Recipes above) and some extra goodies at 61% off the retail price!!! I knew I wanted oils and a diffuser to help purify the air in my home and replace harmful candles, PLUS, my membership saves me 24% off all future orders, for life so I was able to start switching out my personal care products for less and I had a great oil stash for my DIY projects!! I was pretty stoked about those savings and then it got even better!!!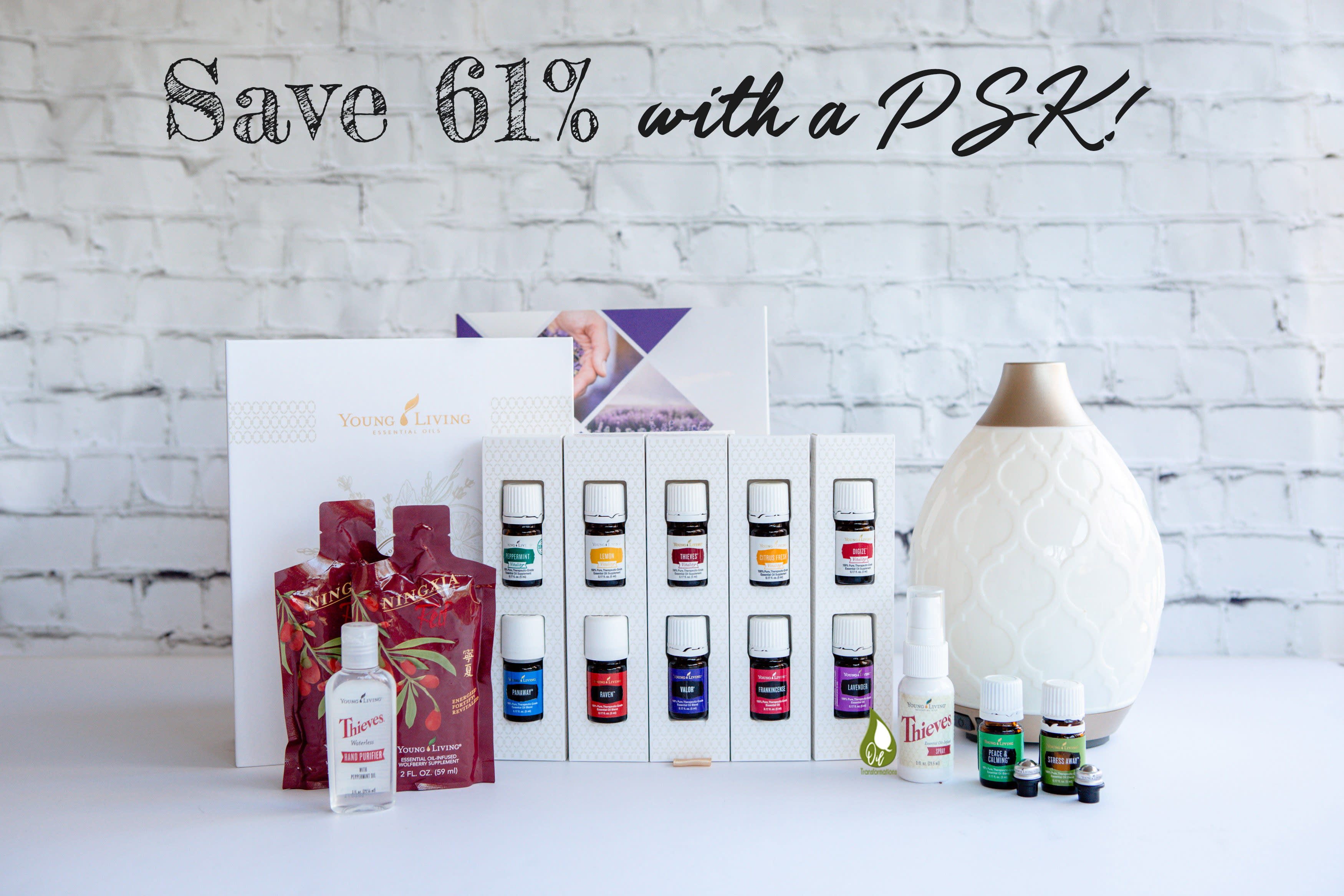 If saving up to 49% excites you as it did me, then Young Living has a great subscription program for you!
You can now join Essential Rewards (ER) right away! That means your starter kit can be your first ER box, earning you points back immediately towards future purchases!
Pick out your Starter Kit … HERE!
Get a FREE BONUS OIL plus 10% back in points when you opt to make your Premium Starter Kit your first Essential Rewards order, YL's amazing subscription box program!! Keep reading to find out more!
After you say YES to Essential Rewards
You will be prompted to set up your next box. Go ahead and start swapping out those harsh chemicals in your home and in your cosmetic drawer. In the next few months use your customizable box to replace toxic products that might be hiding in your laundry room and bathrooms - get that home filled with oily goodness! Thankfully Young Living has over 600 oils and oil-infused products to help you do that! Plus you have me as your personal guide to make suggestions along the way!
Look at all these Essential Rewards perks!
Earn points to spend on future product
FREE loyalty gifts along the way
FREE promotional items available every month
Exclusive discounted ER bundles
Completely customizable and flexible
Cancel anytime, no penalty or cancellation fee
Discounted shipping
Use this link to pick out your favorite starter kit and start earning your rewards!
As an extra Thank You...
When you join the Oil Transformations team of oilers I'll hook you up with some extra lovin' in the form of my favorite resource book and tools to get you on the fast-track and a one-on-one call to get to know you, swap a few tips & tricks and learn about your wellness goals.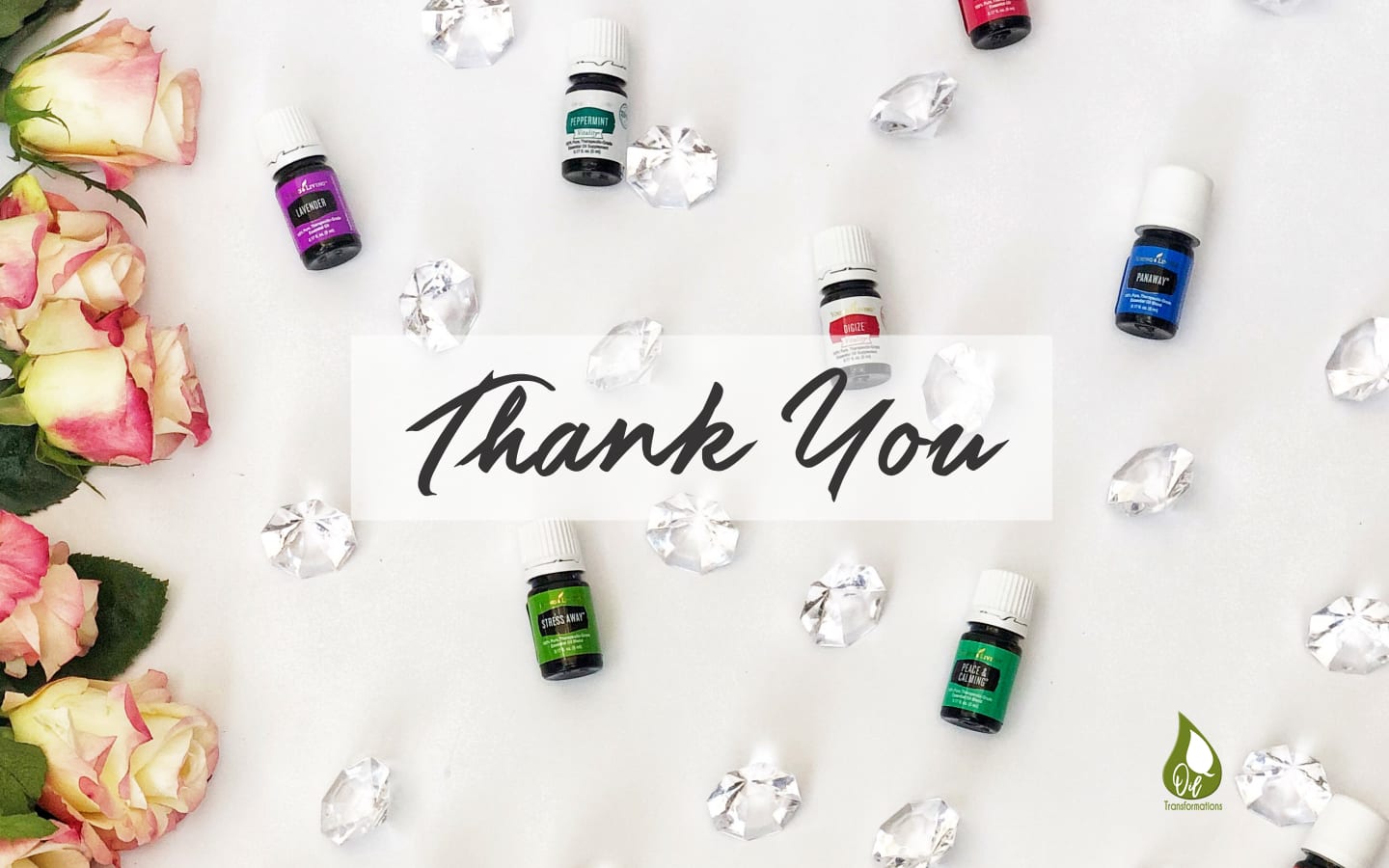 If you've got questions, message me I'm happy to help!
A Few Side Notes
➕ Information obtained here is meant for educational and informational purposes ONLY, and to motivate and empower you to make your own wellness journey based on your own research and partnership with your healthcare provider.
➕The statements have not been evaluated by the Food and Drug Administration. These products are not intended to diagnose, treat, cure, or prevent any disease.
This content is copyrighted and trademarked by Oil Transformations with Wendy Moore and her team. Please do not alter, copy, or steal, because that is just wrong.
Comments are currently closed
Subscribe to My Updates
Here's some information about the list that you're signing up for. It will populate the description from their account.
Free Email Class: Essential Oils 101
Learn all the basics on essential oils in my FREE Essential Oils 101 Email Course. I'll also share DIY beauty and skin care recipes, homemade cleaners and other practical uses for essential oils to help you save money too.
Ready to begin a healthier life?
Get a Starter Kit and SAVE!
Most of us begin our journey by choosing a Premium Starter Kit. The kits offer considerable value for your money (significantly lower than paying retail), and they contain enough full-size items to ensure initial success using Young Living.


Check It Out
For Home, health, & fitness
Products for Everyone!
These products celebrate the harmony between nature, body, mind, and soul. Have you noticed that walking through lavender fields or a pine forest seems to instantly awaken your senses — from the energizing aromas to the feelings of well-being the smell evokes? Young Living infuses this into everything they create.
Next Event Title
This is a description of the event pulled from the user's account, talking about how awesome it is going to be.