Guinness Cottage Pie Recipe, Infused with Vitality Essential Oils
Get your tastebuds ready, this Guinness Cottage Pie Recipe is infused with Vitality Essential Oil to bring out fresh flavors and it has comfort food written all over it!
Several years ago I was asked to participate in a local St. Patrick's Day Shepherd's Pie cook-off against a trained chef. I was so nervous, I mean it was a friendly competition, for a non-profit, but no one wants to lose, am I right?
Cottage Pie Is One Of My All-Time Favorite Comfort Foods!
Shepherd's Pie, not so much. So what's the difference? Well, it's simple, Shepherd's Pie is made with lamb while Cottage Pie is made with beef. Even though I know the difference, if I order this in a restaurant, I always ask which meat they use, because I really don't like a surprise and often they use a combination of lamb and beef. I simply don't care for the gaminess of the lamb, so I always opt for a beef Cottage Pie.
I've certainly eaten my fair share over the years, and I knew the flavors I enjoyed so I started playing in the kitchen. The irony is my husband doesn't like casseroles. Thankfully, my dad and youngest son do, so I had some taste-testers to help me out.
Cottage Pie is such a simple meal as it's an all-in-one dish with simple ingredients, but it's not easy to find one that hits all the marks. For me, that means it has a thick, rich flavorful gravy, meat that has been properly seasoned, peas and carrots, and is topped with creamy mashed potatoes with a top-crust of golden brown cheese.
I Like Good Food That Is Fast Prep And Easy Clean-up!
I can't lie, my homemade mashed potatoes don't always turn out perfect. In this instance, I was feeding 100 people and I couldn't risk gummy, gluey, and unappetizing potatoes. Soooooo, I cheated. I found pre-made mashed potatoes in bulk at Costco and I went for it! (I've also used the Simply Potatoes brand from the Grocery store when I'm making smaller batches and had delicious results!)
If you're a master potato masher, I bow to you and say by all means go for it, you'll find the quantities needed in the recipe below.
Altogether, you should be able to make this recipe in an hour or less, depending on whether you're making potatoes or buying ready-made.
As I always say, the quality of the ingredients matter and I like to use organic, grass-fed 85/15 ground beef, because I think it gives better flavor.
I grow some of my own herbs and I also use Vitality Essential Oils from Young Living. I have found them to be more cost-effective as they don't expire and it takes one single drop or less for most recipes and I have the fresh flavors I love to cook with year round. (Please note, I only recommend using Vitality Oils as they are labeled in accordance with FDA guidelines for ingestion.)
My recipe calls for a blend of equal parts of Cheddar, Fontina, and Gruyère cheese. You can use this mix or any single cheese or combination that you like.
I prefer to use heavy whipping cream in any recipe that calls for half & half milk, it's just more scrumptious. My butter choice is Kerry Gold or Plugra, both are in the same price range and tend to be softer and extra-creamy.
When I buy produce, I am careful to select organic whenever possible and be sure to always soak my fruit and veggies before cooking or eating. This is my favorite soak, just one cap in a sink full of water will even remove the wax applied to most produce!
Onto My Winning Recipe...
Yes, my recipe was the crowd favorite that day. I felt so proud to have made something I love to eat be enjoyed by others. I hope you and your family enjoy it as much as I do!
I usually make this in a 16 x 9 baking dish, the recipe can easily be cut in half to make an 8 x 8 casserole that is perfect for 2-4 people. I like leftovers so I always make extra and freeze the leftovers into portion sizes so I can share with my dad.
If You Plan To Freeze Your Leftovers, Make Sure You Do This Trick
Bake the Cottage Pie, let it a bit, cut into portions, serve your meal and then let the remaining pieces come to room temperature and stick the pan in the freezer for an hour or so. Once they are "flash"-frozen, I put them into Vac & Seal bags and they hold their shape and are protected from freezer burn. I label and date them before putting them back in the freezer.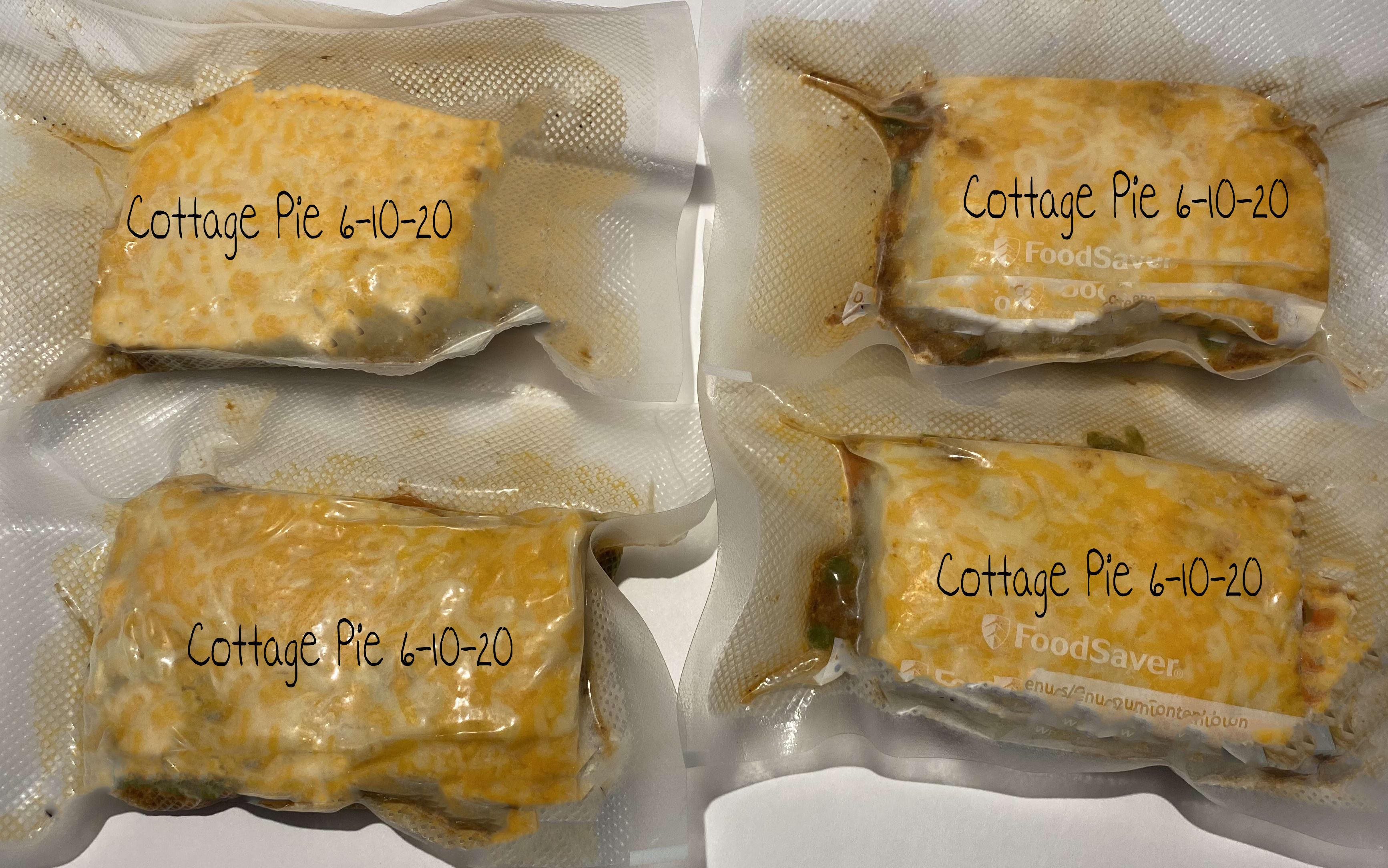 Ingredients for Mashed Potatoes:
2 lbs of russet potatoes

4 tablespoons butter

1/2 cup heavy cream

1 teaspoon salt

1/2 teaspoon black pepper

1 cup shredded cheese, I use equal parts of Cheddar, Fontina, and Gruyère cheese
Ingredients For Meat Filling:
3 tablespoons vegetable oil
1 1/2 cups chopped onion
3 cloves garlic, minced
2 pounds ground beef
2 teaspoons sea salt
1 teaspoon black pepper
1 package of beef gravy mix (not jarred or canned)
4 teaspoons tomato paste
4 teaspoons Worchestershire sauce
1 cup of beef broth
1 cup of Guinness Irish Beer
2 teaspoons rosemary
1 drop of thyme Vitality Essential Oil
1 - 15 oz bag of frozen peas and carrots
Parsley flakes or sprigs of rosemary for garnish
Directions For Mashed Potatoes:
Soak the potatoes for 2-3 mins. then peel and cut into quarters. Add potatoes to a medium-sized pot and add cold water to cover them. Boil over medium-high heat until they are tender. (While potatoes are cooking you can prepare the meat filling.) Once cooked, pour potatoes and water into a colander. Once drained, transfer them to a mixing bowl or a stand mixer bowl.
Add butter and slowly mash together, gradually pouring in the heavy cream as the potatoes are being mashed. Add salt and pepper. (Be careful not to overmix, this is where I mess up and get gummy potatoes!) Set potatoes aside while you finish preparing your filling.
Directions For Meat Filling:
Preheat oven to 350 degrees, place rack in the center.
Using a large saute pan, heat the oil over medium heat. Add onions and saute until they are golden brown. Add garlic, stirring gently to prevent scorching. Add the ground beef, salt, and pepper. Cook until the meat is well done. Sprinkle the contents of the gravy packet evenly over the meat and blend it into the mixture.
Add in the beef broth, Guinness beer, tomato paste, Worchestershire, rosemary, and thyme essential oil. Stir to combine. Gently fold in the peas and carrots. Cover and let simmer until the sauce is lightly thickened.
Assembling The Cottage Pie:
Lightly spray your baking dish with oil to prevent sticking. Spread the meat mixture evenly across the bottom of the baking dish. Spoon the mashed potatoes on top of the meat mixture, then use a spatula to spread the mixture all the way to the edges. (If you want to get fancy, you can pipe your potatoes over the mixture.) Sprinkle your cheese evenly across the top of the potatoes.
Place your baking dish onto a baking tray to catch any overflow. Slide it into the middle of the oven.
Bake for 25 minutes or until the cheese is golden brown.
Remove from the oven, garnish with parsley flakes or sprigs of rosemary before serving.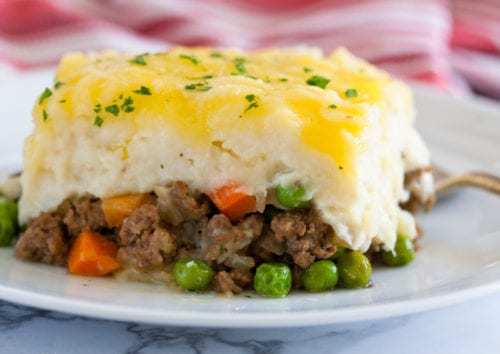 Comments are currently closed
Subscribe to My Updates
Here's some information about the list that you're signing up for. It will populate the description from their account.
Free Email Class: Essential Oils 101
Learn all the basics on essential oils in my FREE Essential Oils 101 Email Course. I'll also share DIY beauty and skin care recipes, homemade cleaners and other practical uses for essential oils to help you save money too.
Ready to begin a healthier life?
Get a Starter Kit and SAVE!
Most of us begin our journey by choosing a Premium Starter Kit. The kits offer considerable value for your money (significantly lower than paying retail), and they contain enough full-size items to ensure initial success using Young Living.


Check It Out
For Home, health, & fitness
Products for Everyone!
These products celebrate the harmony between nature, body, mind, and soul. Have you noticed that walking through lavender fields or a pine forest seems to instantly awaken your senses — from the energizing aromas to the feelings of well-being the smell evokes? Young Living infuses this into everything they create.
Next Event Title
This is a description of the event pulled from the user's account, talking about how awesome it is going to be.