| | |
| --- | --- |
| Item: | 24261 |
| Size: | 30 ct |
| Discount Price: | $36.75 |
| Price: | $48.36 |
MightyPro is a unique, synergistic blend of prebiotics and probiotics in a supplement specially formulated for children. Packaged in easy, one-dose packets that can be taken almost anywhere you go, this supplement features over 8 billion active, live cultures to support digestive and immune health.*
Featuring a great-tasting formula that can be added to cold food and drinks for easy consumption, MightyPro supports gastrointestinal and immune health and maintains gut health in children, keeping kids up and active. That means fewer missed days of school, day care, and playing with friends.*
Formulated With
MightyPro is formulated with Ningxia wolfberry fiber, a naturally occurring prebiotic. The wolfberry fiber passes through the gut and promotes healthy bacteria in the colon, helping make the most of the probiotic complex.
Product Snapshot

EXPERIENCE
MightyPro's Wolfberry Punch flavor provides a sweet and tasty experience, whether added to food or drink or directly dissolved in the mouth.
Packaged in convenient, single-serve packets to ensure the freshness and efficacy, MightyPro requires no refrigeration, unlike some other probiotic supplements.

BENEFITS
The appearance of healthy gut microflora has widespread and long-lasting consequences on your child's well-being.
MightyPro features the goodness of Young Living's own Ningxia wolfberries and is formulated to support beneficial bacteria in the gut.
MightyPro single-serve packets are a convenient choice for the whole family, with a formula that promotes not only digestive health but also general health in both children and adults.*

Caution: While this product is great for children, it is not safe for animals.
Suggested Uses

DIRECTIONS
For children 2 years and older, empty contents of 1 packet into mouth and allow to dissolve.
Take 1 packet daily with food to provide optimal conditions for healthy gut bacteria.
Can be combined with cold food or drinks. Do not add to warm or hot food or beverages.
Storage: Keep in a cool, dry place.

CAUTIONS: Keep out of reach of children. Do not exceed recommended dosage. If you are pregnant, nursing, taking medication, or have a medical condition, consult a health professional prior to use.
*These statements have not been evaluated by the Food and Drug Administration. This product is not intended to diagnose, treat, cure, or prevent any disease.
Ingredients
Prebiotic blend (Fructooligosaccharides, Ningxia wolfberry (Lycium barbarum) fruit fiber), Lactobacillus paracasei Lpc-37, Lactobacillus acidophilus LA-14, Ningxia wolfberry (Lycium barbarum), Lactobacillus plantarum LP-115, Lactobacillus rhamnosus GG AF, Streptococcus thermophilus, Lactobacillus rhamnosus 6594, Bifidobacterium infantis Bl-26, Xylitol, Erythritol, Natural fruit punch flavor, Citric acid
Leave a Comment / Ask a Question
Subscribe to My Updates
Here's some information about the list that you're signing up for. It will populate the description from their account.
Free Email Class: Essential Oils 101
Learn all the basics on essential oils in my FREE Essential Oils 101 Email Course. I'll also share DIY beauty and skin care recipes, homemade cleaners and other practical uses for essential oils to help you save money too.
Ready to begin a healthier life?
Get a Starter Bundle and SAVE!
Most of us begin our journey by choosing a Young Living Starter Bundle. The bundles offer considerable value for your money and they contain enough full-size items to ensure initial success using Young Living.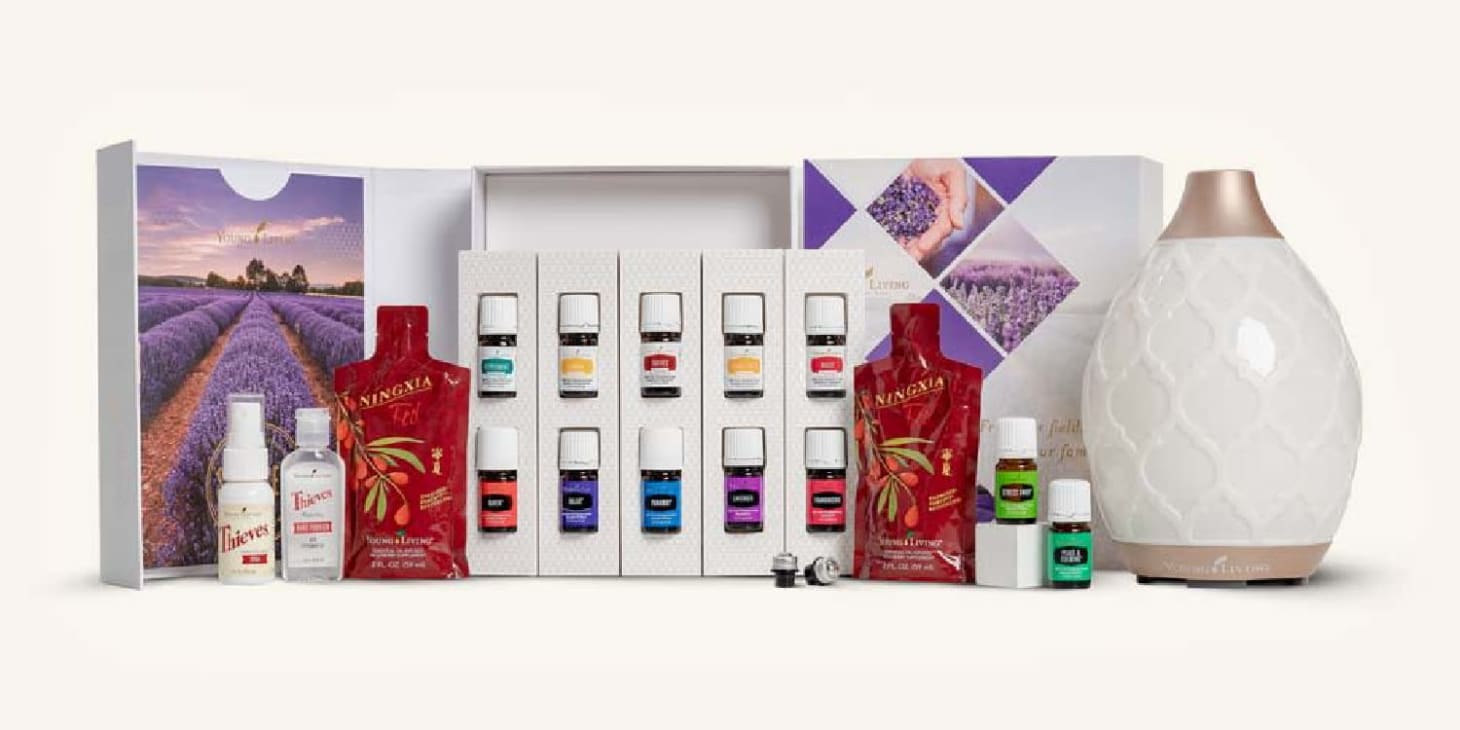 Check It Out
For Home, health, & fitness
Products for Everyone!
These products celebrate the harmony between nature, body, mind, and soul. Have you noticed that walking through lavender fields or a pine forest seems to instantly awaken your senses — from the energizing aromas to the feelings of well-being the smell evokes? Young Living infuses this into everything they create.
Next Event Title
This is a description of the event pulled from the user's account, talking about how awesome it is going to be.