Why Is Commercial Wheat Now Causing People to Be Sick?
Have you noticed that people seem to be getting sicker and taking more medications than ever, instead of getting healthier?
Today's commercial wheat is one of the culprits that is causing tens of thousands of people to be sick! Studies have now linked wheat hybridization to gluten intolerance.
But Why Is This and How Did It Become This Way?
Sadly, our modern world has corporate profit at a pivotal point for all decisions.
With profit in mind, back in the 1970's big corporations began messing with the genetic codes of wheat to hybridized it for smaller, or dwarf, varieties of wheat so it would increase the crop yields.
This was very successful and produced considerable increases in production, but it has also produced sicker consumers.
Studies have shown that only a decade ago, gluten intolerance levels were at 1 in 2,500 worldwide. Today, it's at 1 in 133.
Some researchers and doctors are questioning whether or not it may be a problem for everyone. Maybe today's wheat isn't actually fit for human consumption; perhaps it is too hard on our digestive system.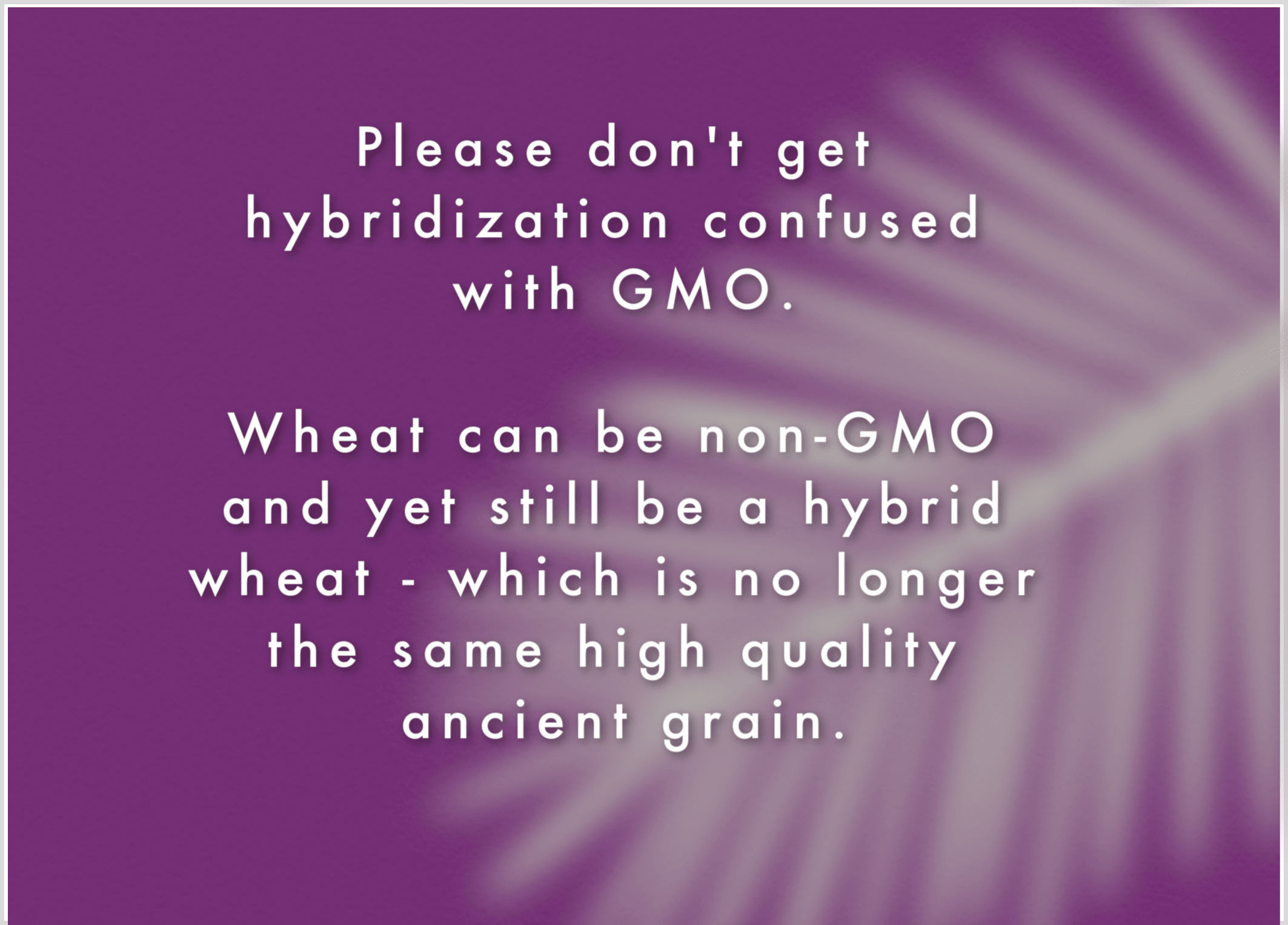 Your Easy Solution to This Problem Is Uncontaminated Ancient Grain!
Einkorn is the oldest wheat known to scientists and is considered man's first wheat. Grains of the wild einkorn were traced back to tens of thousands of years ago, and the first domestication of wild einkorn was recorded approximately around 7500 BC.
Einkorn Flour Is Prized for Its Compatibility with the Human Body
This is because einkorn has retained its primitive genetic code that contains only 14 chromosomes—a considerable difference from the 42 chromosomes contained in modern hybridized wheat.
You Can Now Substitute Wheat for Healthy Einkorn Non-GMO Artisan Flour!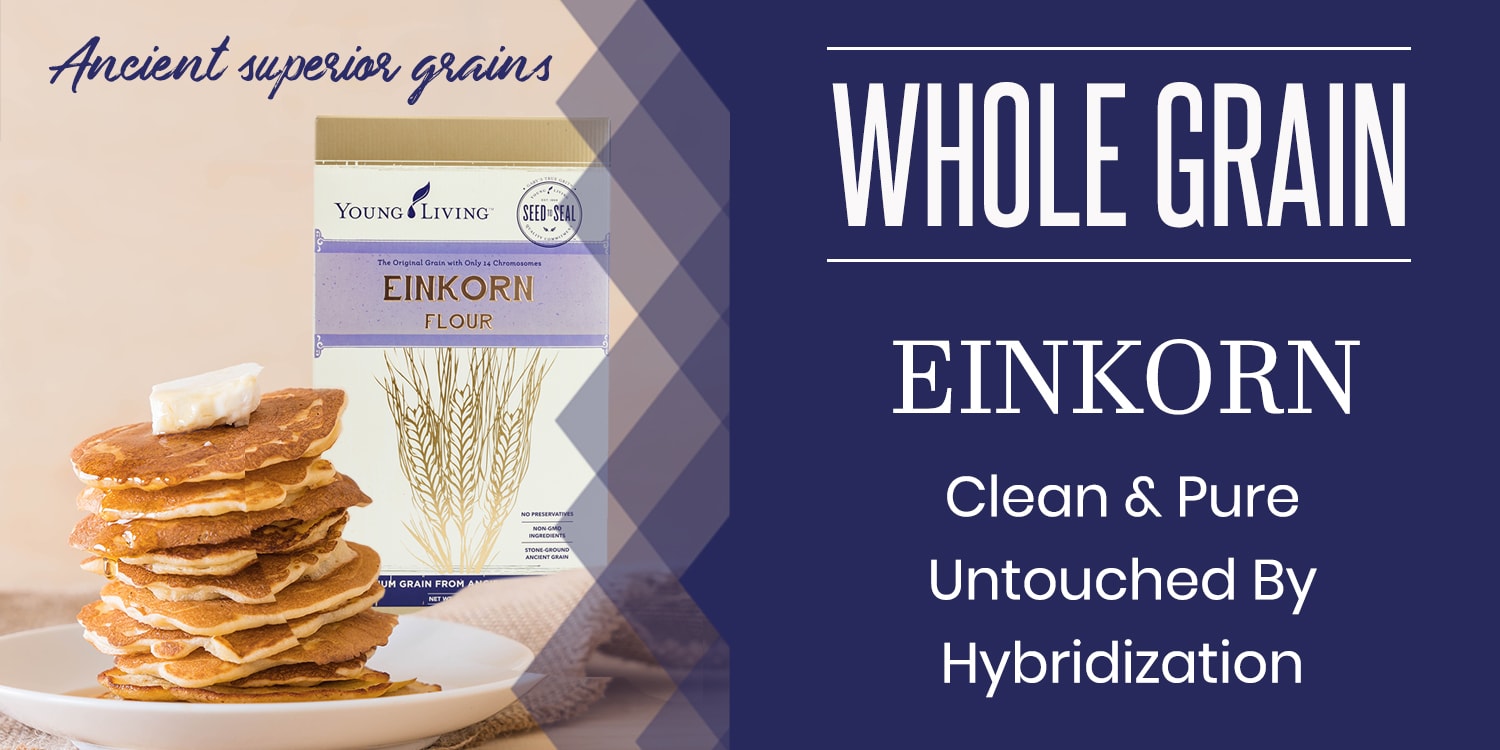 I'm so proud that Young Living has brought the sweet taste and nutrient-rich goodness of einkorn to us.
I particularly like that their einkorn is grown by artisan farmers who use traditional methods. All of us who support traditional farming and non-GMO crops, this is perfect.
Isn't it time to Ditch and Switch
Your Flour Products?
Flour and Mixes

Gary's True Grit® Einkorn Pancake and Waffle Mix
can be substituted in a 1:1 ratio for
all-purpose or whole-wheat flours.
Pasta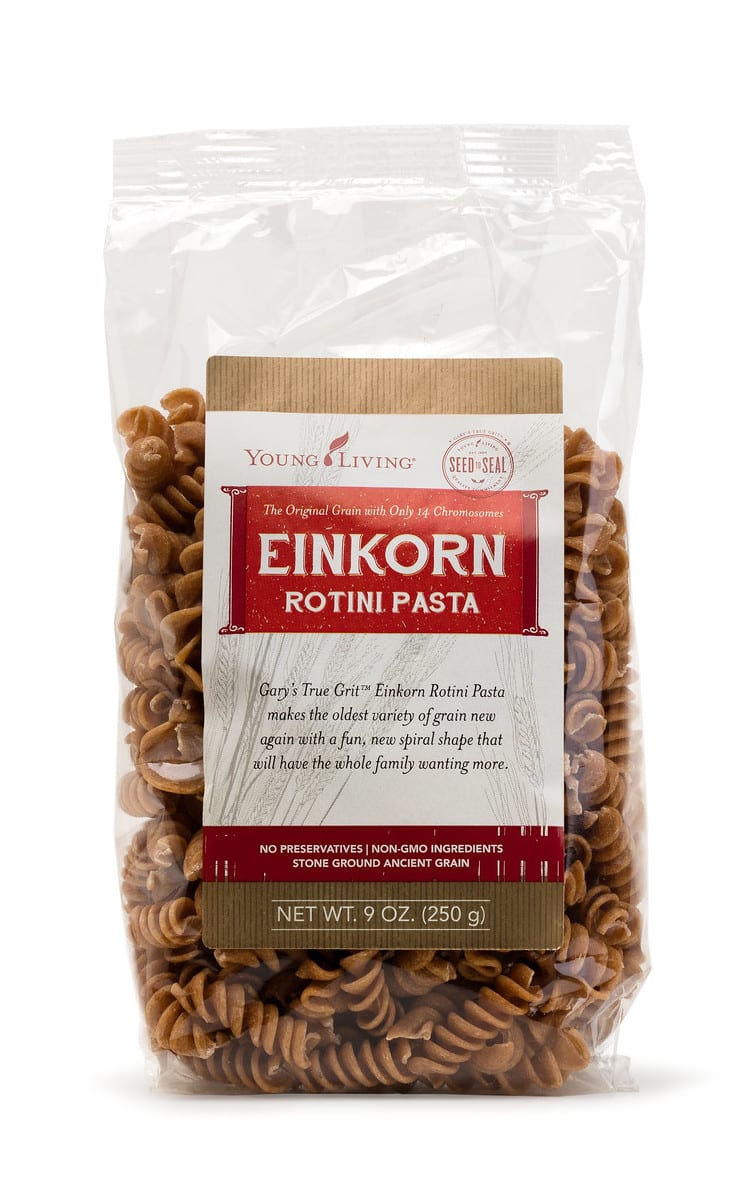 Made of highly nutritious, unhybridized einkorn flour,
this is perfect for your pasta dishes.
Einkorn pasta is loved by many and a blessing
for those who just can't eat hybridized wheat.
Snacks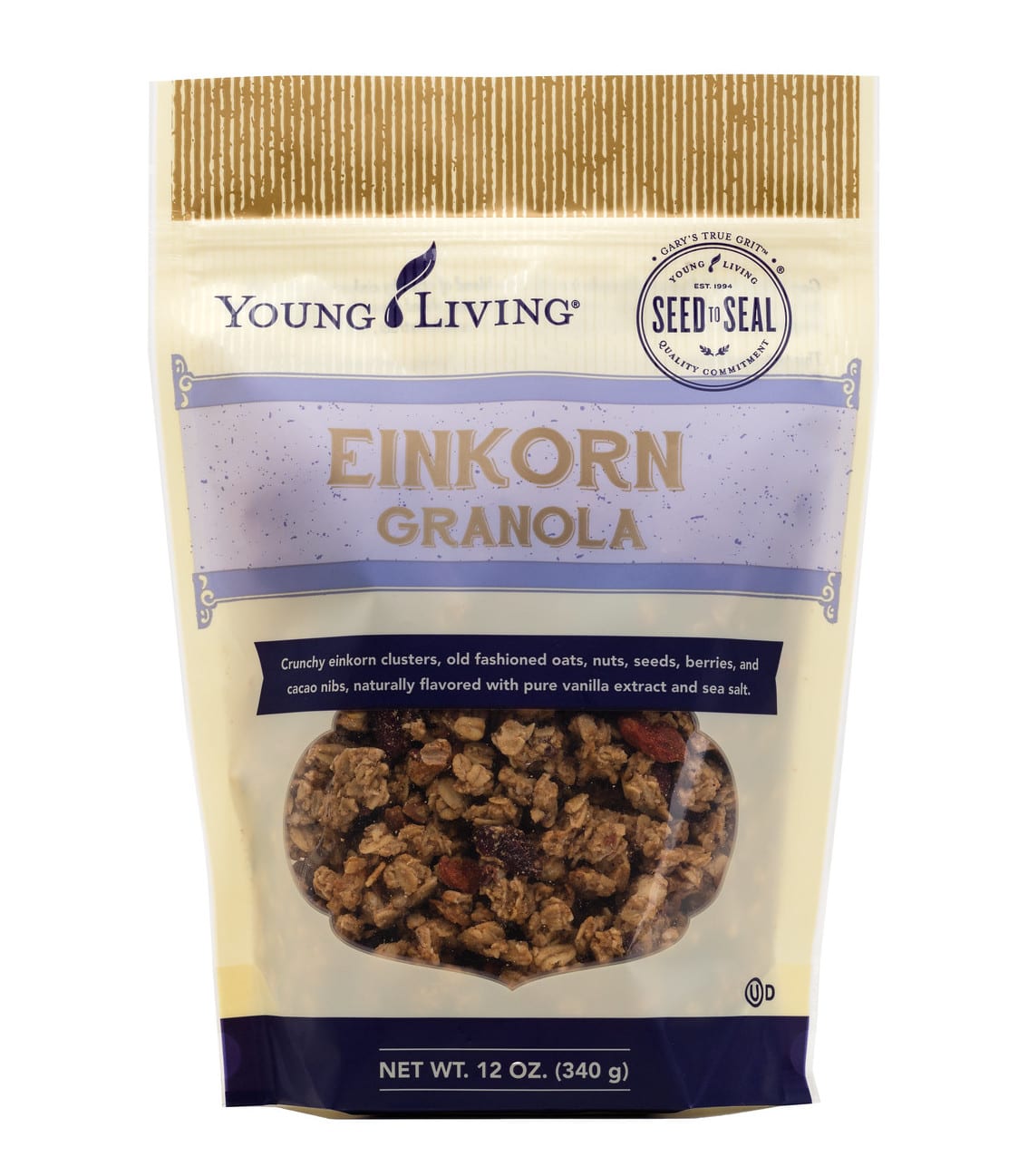 When you want snacks that provide wholesome nutrition.
You also get the goodness of ancient einkorn,
without any artificial colors, flavors, or preservatives—the way nature intended.

The uses of einkorn in cooking and baking are endless! Einkorn flour can be substituted for all-purpose or whole-wheat flours in a 1:1 ratio.
For me, I have finally found flour that I can easily use and be proud to feed to my family!
A NEW LIFESTYLE
I'd love to welcome you to the world of Young Living. Here, you will find much more than essential oils—you'll find a new lifestyle.


✅ I invite you to share your comments or ask me a question, using the form at the bottom of this page.
---
Leave a Comment / Ask a Question
Subscribe to My Updates
Here's some information about the list that you're signing up for. It will populate the description from their account.
Free Email Class: Essential Oils 101
Learn all the basics on essential oils in my FREE Essential Oils 101 Email Course. I'll also share DIY beauty and skin care recipes, homemade cleaners and other practical uses for essential oils to help you save money too.
Ready to begin a healthier life?
Get a Starter Bundle and SAVE!
Most of us begin our journey by choosing a Young Living Starter Bundle. The bundles offer considerable value for your money and they contain enough full-size items to ensure initial success using Young Living.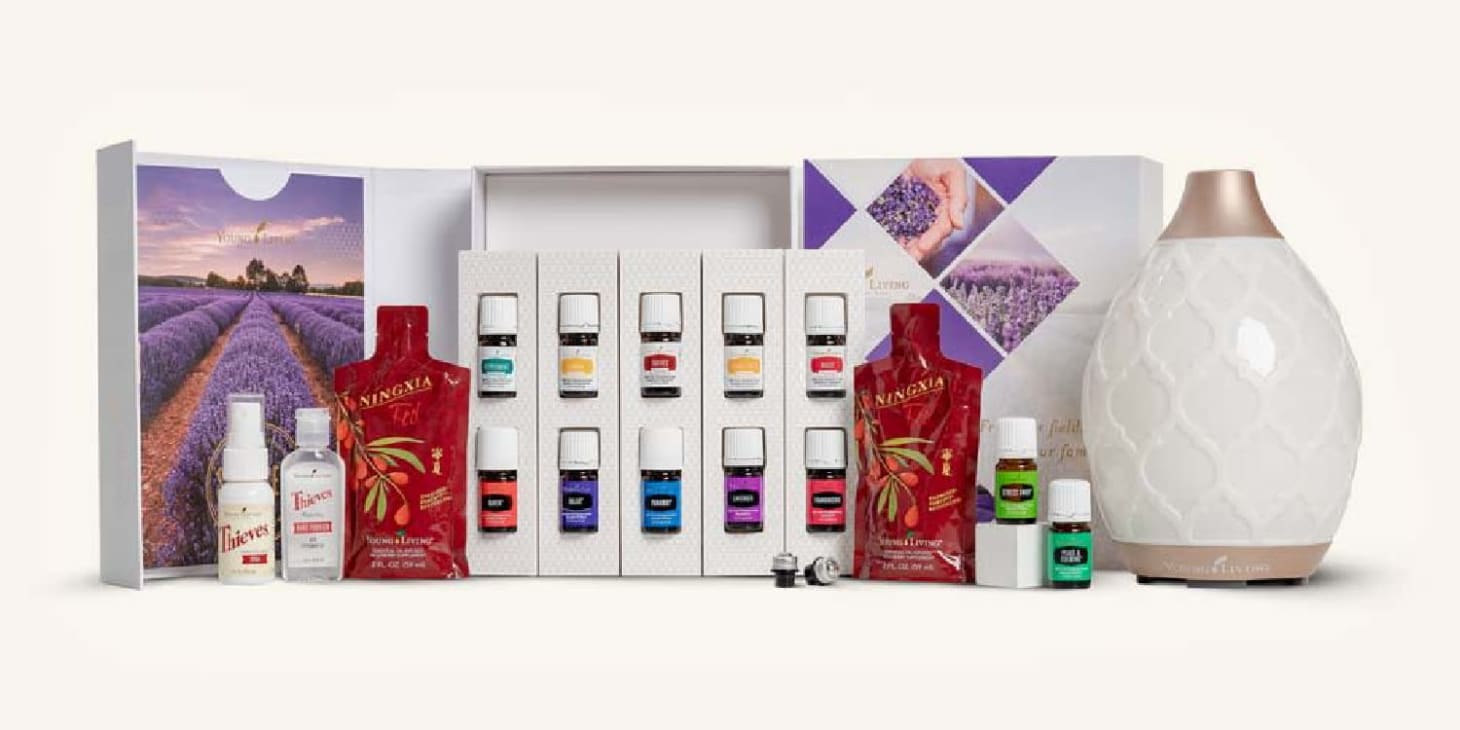 Check It Out
For Home, health, & fitness
Products for Everyone!
These products celebrate the harmony between nature, body, mind, and soul. Have you noticed that walking through lavender fields or a pine forest seems to instantly awaken your senses — from the energizing aromas to the feelings of well-being the smell evokes? Young Living infuses this into everything they create.
Next Event Title
This is a description of the event pulled from the user's account, talking about how awesome it is going to be.