Plant-Based Thieves Mouthwash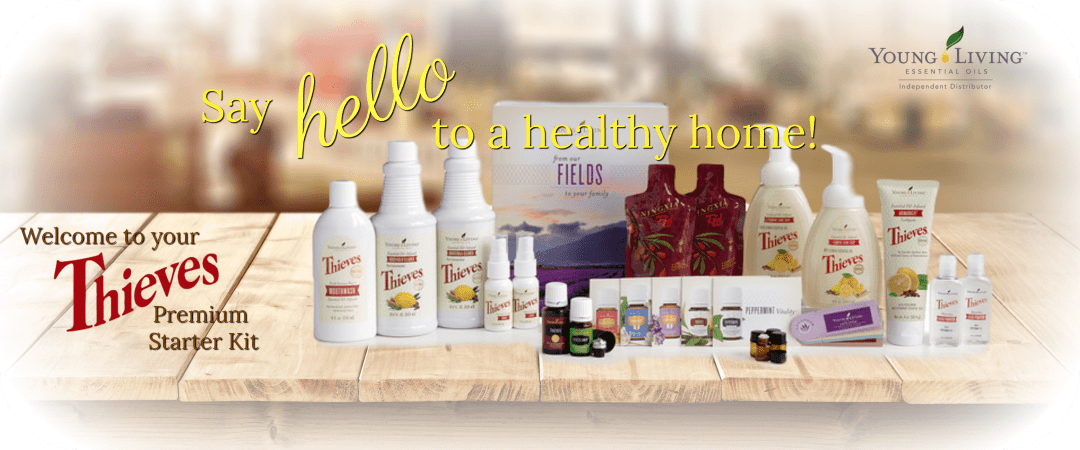 Thieve Mouthwash! Yes, it is "only" mouthwash but there is more to that story! This is a safe and effective mouthwash that doesn't contain the dangerous chemicals that big-brand mouthwashes contain, and that is pretty important as you will see!
Most Mouthwashes
Contain Unthinkable Chemicals!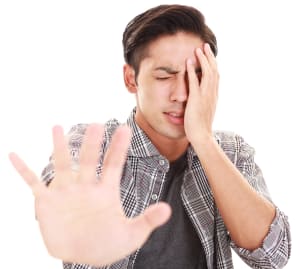 Brushing your teeth and rinsing with mouthwash may seem like one of the safest of activities - after all, they're part of everyone's daily routine and fundamental to personal hygiene.
Traditionally, the oral care market has been dominated by the familiar big brands, and it's simply assumed that their products are safe, effective, and healthy for the body.

What you're about to learn will flip everything you thought you knew about mouthwash upside-down.

Now ask yourself, when is the last time you researched the ingredients in your toothpaste and mouthwash? Because there's a good chance that the products you use every day to clean your teeth and freshen your breath may be causing great harm to your health.

Grab your regular mouthwash and check the ingredients. Do you see any of the following ingredients in it? If you see any of these ingredients please consider dumping it, since these are toxic and could be doing much more harm than good.

Chlorhexidine
This chemical is believed to be the cause of increased blood pressure associated with mouthwash use. According to a study published in the journal Free Radical Biology and Medicine, using mouthwash (with this ingredient) just twice a day can increase blood pressure and lead to serious heart conditions. This is because Chlorhexidine kills the good bacteria in the body that is responsible for relaxing the blood vessels.

Alcohol
Alcohol dries out the mucous membranes in the mouth and reduces saliva, causing bad breath. It changes the pH of the mouth and throat, and the Dental Journal of Australia found sufficient evidence that alcohol increases the risk of developing oral, head and neck cancers.

Hexetidine (oraldene)
This is an anti-bacterial and anti-fungal drug used in some popular mouthwash products, however, ingesting too much of this chemical (like over years of small doses) can cause more harm than good. It is known to cause clotting in parts of the brain that control sensory and neural functions, and it may cause failure in these parts of the brain over time. It is not advisable to take Hexetidine when pregnant or when breastfeeding. It is considered to be carcinogenic.

Methyl Salicylate
Just one tablespoon of this substance is equivalent to over twenty-three 300mg aspirin pills. An overdose can lead to kidney failure, loss of vision, low blood pressure, difficulty breathing, convulsions, vomiting and much more.

Benzalkonium Chloride
This is an allergen that can cause irritations in the skin and mucous membranes, leading to allergic reactions, difficulty breathing, and swelling of the mouth, face, lips or tongue.

Cetylpyridinium Chloride
This chemical can actually cause stains to develop on the teeth. It contains high amounts of alcohol and can lead to sensitivity, pain and irritation to the tongue. A study in 1998 actually shows this chemical was responsible for an increase in plaque build-up rather than the decrease claimed.

Methylparaben
Methylparaben has been found in breast cancer tissues. It's widely used in mouthwash and women's cosmetics such as skin creams and deodorants. Studies suggest that it may increase the risk of breast cancer or accelerate the growth of tumors.



---
You're Safe with Thieves Fresh Essence Mouthwash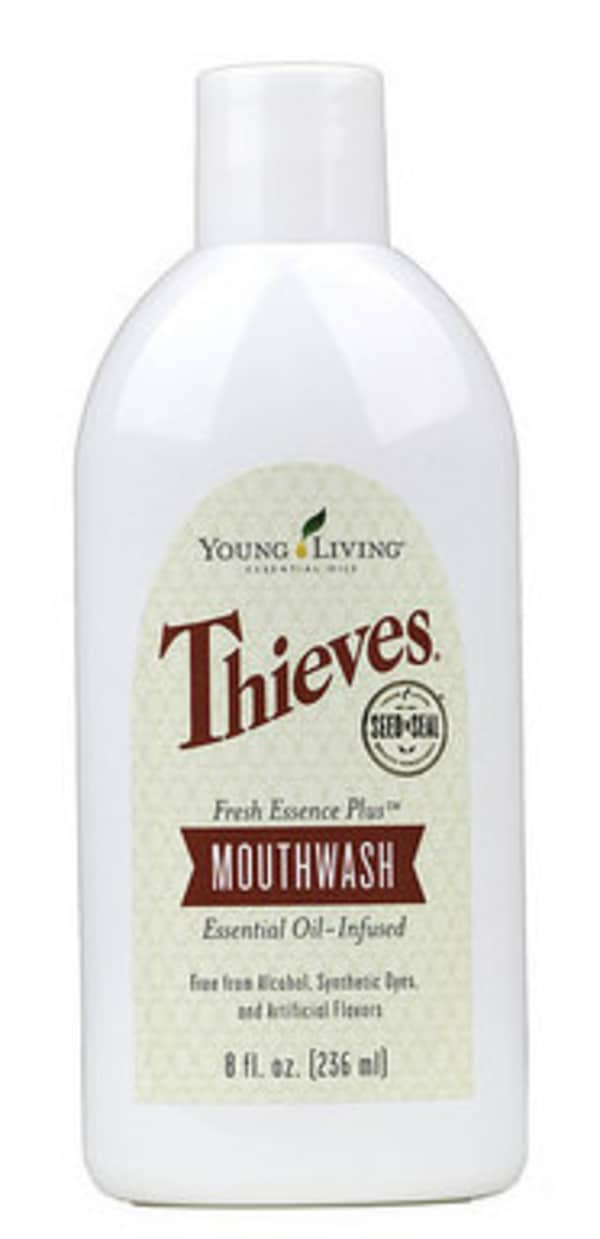 It is true that even if you brush regularly you can miss areas of the teeth and gums, and this is especially true for children. Thieves Fresh Essence Plus Mouthwash freshens and provides a whole-mouth clean utilizing Thieves® essential oil blend.

Your teeth and gums will benefit from an invigorating clean that's free from harsh alcohol and artificial dyes and flavors. The spicy-sweet flavor of Thieves combined with Spearmint and Peppermint will leave you with fresh breath and a pleasant taste!


Benefits & Features
Provides fresh breath and an extra clean mouth
Supports healthy-looking gums and teeth
Provides a refreshing taste with 100% pure essential oils.
Contains no alcohol, dyes, or artificial flavors

How to Use
Rinse mouth with 1 tablespoon or capful of Thieves Fresh Essence Plus for 30–60 seconds as needed. It's pretty concentrated, so feel free to dilute it with water if desired.

Ingredients (notice none of the yucky chemicals)
Water, Colloidal silver, Mentha piperita† (Peppermint) oil, Lecithin, Quillaja Saponaria wood extract, Potassium sorbate, Stevia rebaudiana (Stevia) leaf extract, Syzygium caryophyllus† (Clove) bud oil, Mentha spicata† (Spearmint) leaf extract, Citrus limon† (Lemon) peel oil, Cinnamomum zeylanicum† (Cinnamon) bark oil, Vetiveria zizanioides† (Vetiver) root oil, Eucalyptus radiata† leaf oil, Rosmarinus officinalis† (Rosemary) leaf oil, Tocopheryl, Citric acid.
Kathy
Member # 3484293
Text me (760) 205-6987
---

*These statements have not been evaluated by the Food and Drug Administration. This product is not intended to diagnose, treat, cure or prevent any disease.
Comments
3
Jabi Hernadiz
March 13, 2019

Aenean nec lacus sit amet nulla ultricies vulputate. Cras a quam sed lorem hendrerit molestie. Maecenas pulvinar purus eu ante feugiat, sagittis viverra dui ornare. Ut eu ullamcorper magna, non venenatis elit.
Anonymous
March 11, 2019

Aenean nec lacus sit amet nulla ultricies vulputate. Cras a quam sed lorem hendrerit molestie. Maecenas pulvinar purus eu ante feugiat, sagittis viverra dui ornare. Ut eu ullamcorper magna, non venenatis elit.
John Carrol
March 10, 2019

Aenean nec lacus sit amet nulla ultricies vulputate. Cras a quam sed lorem hendrerit molestie. Maecenas pulvinar purus eu ante feugiat, sagittis viverra dui ornare. Ut eu ullamcorper magna, non venenatis elit.
Subscribe to My Updates
Here's some information about the list that you're signing up for. It will populate the description from their account.
Free Email Class: Essential Oils 101
Learn all the basics on essential oils in my FREE Essential Oils 101 Email Course. I'll also share DIY beauty and skin care recipes, homemade cleaners and other practical uses for essential oils to help you save money too.
Ready to begin a healthier life?
Get a Starter Kit and SAVE!
Most of us begin our journey by choosing a Premium Starter Kit. The kits offer considerable value for your money (significantly lower than paying retail), and they contain enough full-size items to ensure initial success using Young Living.


Check It Out
For Home, health, & fitness
Products for Everyone!
These products celebrate the harmony between nature, body, mind, and soul. Have you noticed that walking through lavender fields or a pine forest seems to instantly awaken your senses — from the energizing aromas to the feelings of well-being the smell evokes? Young Living infuses this into everything they create.
Next Event Title
This is a description of the event pulled from the user's account, talking about how awesome it is going to be.