R.C. Essential Oil Blend 15 ml
R.C.
| | |
| --- | --- |
| Item: | 3405 |
| Size: | 15 ml |
| Discount Price: | $26.25 |
| Price: | $34.54 |
R.C.™ Essential Oil is a powerful blend of Spruce, Cypress, and three types of Eucalyptus oils (E. globulus, E. radiata, and E. citriodora). Diffuse or apply it directly before, during, or after your workout. Its energetic aroma will help you stay motivated when you hit the weights, treadmill, or bike.
You can also combine Young Living R.C. oil with V-6™ Vegetable Oil Complex for an invigorating massage. This routine creates a relaxing spa-like experience and can even help when your day demands that you be out and about earlier than usual. Its robust scent will help you perk up as your day begins.
EarthKosher Certified
Product Snapshot

FEATURES & BENEFITS
Provides a refreshing respiratory experience when applied to the chest
May support the feeling of normal, clear breathing
Creates an invigorating experience when added to a bath or shower
May be used as part of an exercise routine to help promote the sensation of deeper breathing
Can be diffused during the cold-weather season

AROMATIC PROFILE
From the bottle: Refreshing, crisp, lemony aroma
Suggested Uses

APPLICATIONS
Topical
Rub R.C. on your chest and the back of your neck before an early morning workout to promote the sensation of deeper breathing.
Use R.C. with V-6 Vegetable Oil Complex for a foot or back massage after your gym routine, outdoor adventure, or yoga practice to enjoy a refreshing scent.
Brighten your outlook during early morning errands by applying R.C. to your chest and wrists.
Apply R.C. topically with V-6 oil to your chest in the evenings for a refreshing respiratory experience.
Aromatic
Add a few drops to a hot bath or shower. The warm water will calm and soothe you, and the oil will diffuse with the steam for an invigorating and empowering experience.

WHERE TO DIFFUSE
Open your home with an aroma that will take you to the heart of a deep, cooling forest.
Invigorate your workout routine with a refreshing breeze of eucalyptus oil aromas.
Add power to your shower and fill your bathroom with this invigorating aroma.
Infuse your bedtime routine with a cool, effervescent scent for a deep sense of comfort.
Banish musty aromas from stuffy spaces and create the sensation of a fresh breeze.
Invite the comfort of crisp, rich, familiar scents into your hotel room when you are away from home.
Enliven a spa experience with the cooling, peaceful aroma of an outdoor refuge.

EXPERIENCE
R.C. has a cool and refreshing aroma that can help create the feeling of normal, clear breathing and create a refreshing respiratory experience when applied topically.

DIRECTIONS
Topical: Dilute 1 drop with 1 drop of V-6 Vegetable Oil Complex or olive oil and apply to desired area as needed.
Aromatic: Diffuse up to 30 minutes 3 times daily.
Storage: Keep in a cool, dark place.

CAUTIONS: Keep out of reach of children. For external use only. Keep away from eyes and mucous membranes. If you are pregnant, nursing, taking medication, or have a medical condition, consult a health professional prior to use.
Ingredients
Eucalyptus globulus† leaf oil
Myrtus communis† (Myrtle) oil
Origanum majorana† (Marjoram) leaf oil
Pinus sylvestris† (Pine) leaf oil
Eucalyptus radiata† leaf oil
Eucalyptus citriodora† leaf oil
Lavandula angustifolia† (Lavender) oil
Cupressus sempervirens† (Cypress) leaf/nut/stem oil
Picea mariana† (Black spruce) leaf oil
Mentha piperita† (Peppermint) oil
†Seed to Seal Premium essential oil
Leave a Comment / Ask a Question
Subscribe to My Updates
Here's some information about the list that you're signing up for. It will populate the description from their account.
Free Email Class: Essential Oils 101
Learn all the basics on essential oils in my FREE Essential Oils 101 Email Course. I'll also share DIY beauty and skin care recipes, homemade cleaners and other practical uses for essential oils to help you save money too.
Ready to begin a healthier life?
Get a Starter Bundle and SAVE!
Most of us begin our journey by choosing a Young Living Starter Bundle. The bundles offer considerable value for your money and they contain enough full-size items to ensure initial success using Young Living.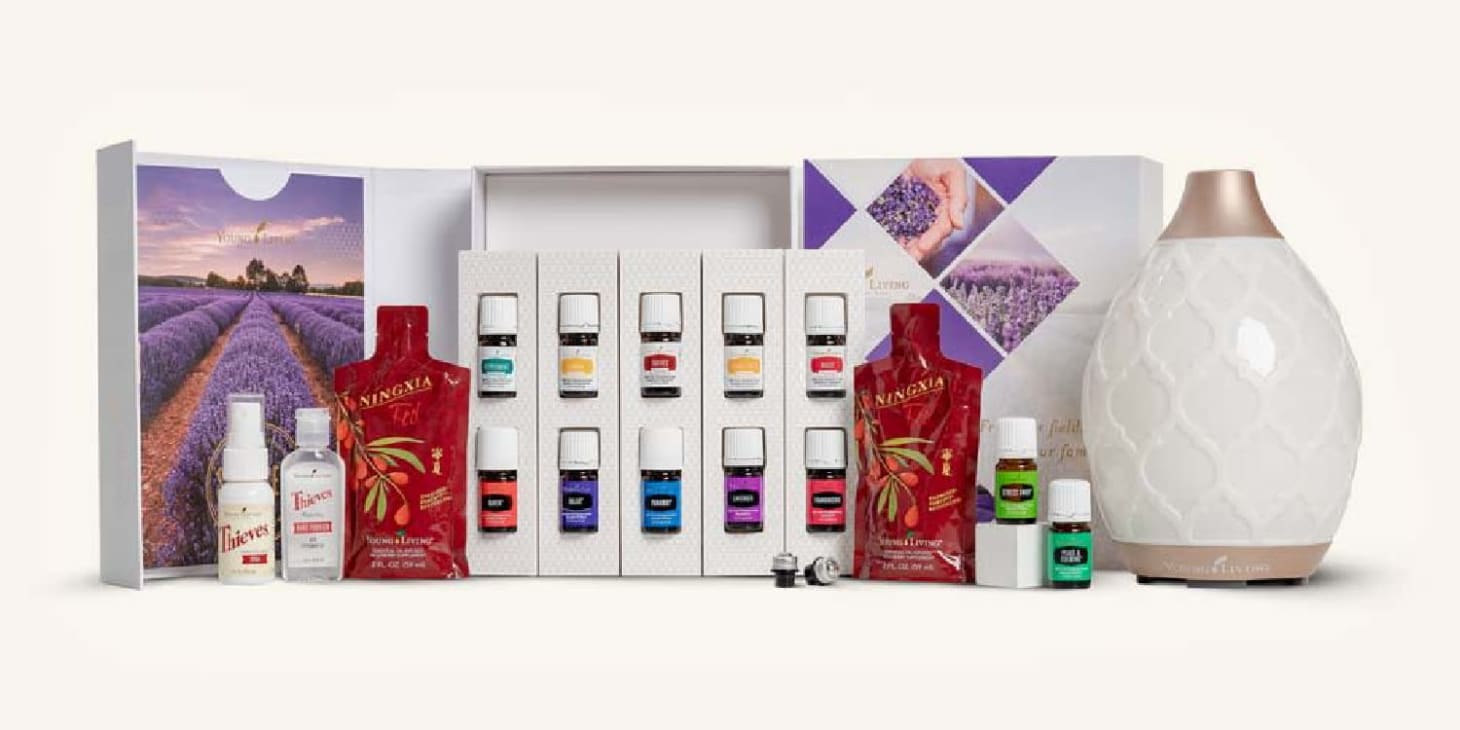 Check It Out
For Home, health, & fitness
Products for Everyone!
These products celebrate the harmony between nature, body, mind, and soul. Have you noticed that walking through lavender fields or a pine forest seems to instantly awaken your senses — from the energizing aromas to the feelings of well-being the smell evokes? Young Living infuses this into everything they create.
Next Event Title
This is a description of the event pulled from the user's account, talking about how awesome it is going to be.