What Makes These Oils the Most Authentic in the World?
A comprehensive set of quality standards that are unmatched in the industry!
These standards go far beyond the industry standards on quality because of the unique Seed to Seal® process that is demanded of every bottle of oil.
It is this comprehensive and extensive process that makes the quality of Young Living's essential oils the purest and most authentic oils in the world.
Their Seed to Seal® Promise on Quality
Matters Only W
hen Results Matter
I particularly love that these quality standards are non-negotiable benchmarks for delivering a product that you can feel 100% safe using and sharing with your loved ones.
As you will see, these standards are multifaceted and exacting….
Here Are The Seed to Seal® Standards
Not all essential oils are created equally. I'm proud knowing that Young Living® will never compromise by adding synthetics, contaminants, or cheap fillers, or by using unethical production practices.
It All Starts With Sourcing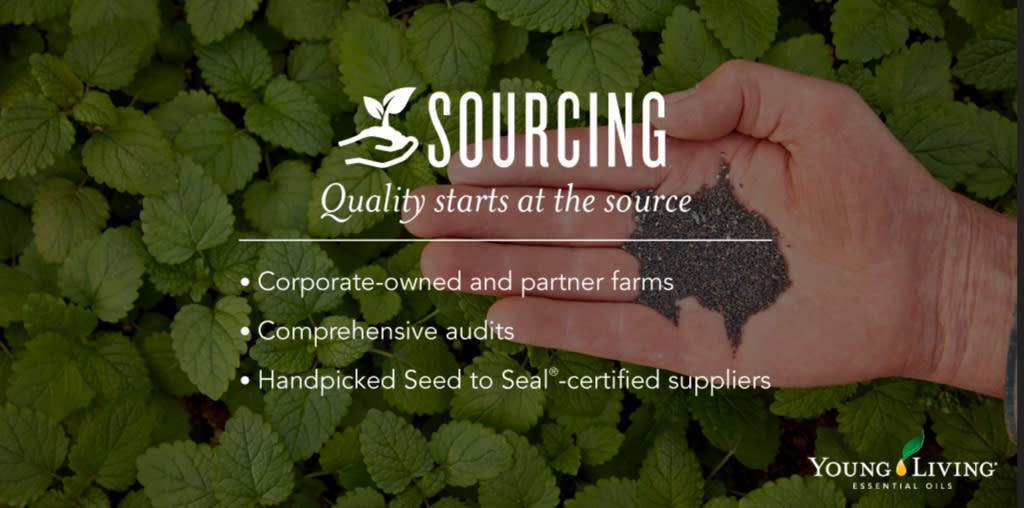 There is an exacting process of sourcing products from carefully vetted corporate-owned farms, partner farms, and Seed to Seal®-certified suppliers and testing them extensively.
If exhaustive tests show that a product doesn't meet the standards, it is rejected, completely.
For More In-depth Knowledge

PARTNERSHIP PRINCIPLES

Young Living oils are sourced from their own corporate-owned farms, partner farms, and Seed to Seal-certified suppliers. This empowers them to source conscientiously and with sensitivity to local communities and ecosystems. Like-minded suppliers are vetted according to five principles:

Established Relationships
Seed to Seal Specifications
Binding Agreements
Stringent Testing
and Ongoing Audits


FORMULATION AND PRODUCTION

The expanded Distribution Center in Spanish Fork, Utah is a state-of-the-art facility. It is here where best manufacturing practices are utilized to test essential oils, ingredients and products, to formulate and manufacture the innovative offerings.

THIRD-PARTY SUBSTANTIATION

Young Living will only work with partners who can be trusted, but even with that, they engage third-party global experts to validate that the standards are being upheld. This helps to ensure that inferior or unethically sourced ingredients never find your products.
And There is More
Young Living® demands a high level of quality and authenticity while encouraging responsible practices of production and processing at all stages in the supply chain.
Young Living® is working with SCS Global Services (a global expert in environmental and sustainability certification, standards development, responsible sourcing, and business solutions) on the details of the development and implementation of the Young Living Essential Oils® Sourcing Standard.
For More In-depth Knowledge

SUPPLY CHAIN

These sourcing standards apply to all stages of the supply chain, including farms, wildcrafting operations, processing facilities (e.g., distilleries), as well as Young Living-owned facilities.

It applies to Young Living corporate-owned farms, partner farms, and Seed to Seal-certified suppliers.

Young Living and all of their partners must meet the highest standards in:

Authentication
Agricultural Practices
Harvesting & Collection
Extraction & Distillation Practices
Testing
Traceability
Storage & Bottling
Science is the Cornerstone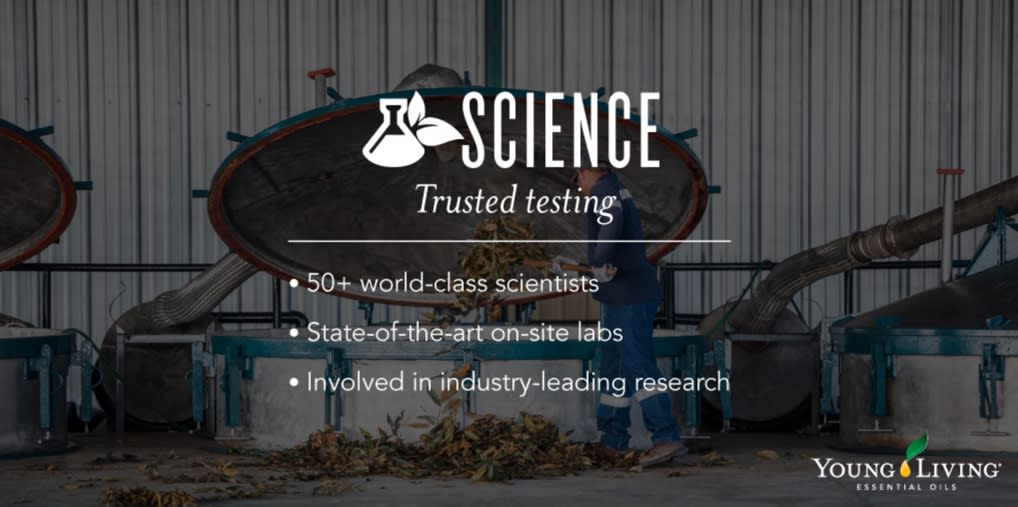 Trained scientific staff work in state-of-the-art labs with some of the most advanced scientific equipment available.
While Young Living® labs can conduct all of these tests, they routinely use third-party labs to supplement internal testing.
For More In-depth Knowledge

INDUSTRY-LEADING RESEARCH

The D. Gary Young Research Institute and Quality program is staffed with more than 50 highly trained, highly skilled scientists who use advanced testing methods to help ensure that products meet lofty standards.


THIRD-PARTY TESTING

In addition to two in-house labs, Young Living also works with more than a dozen of the world's leading, independent, and accredited labs with highly skilled and trained scientists who specialize in advanced product testing.

INNOVATIVE PRODUCT DEVELOPMENT

With purity and efficacy being most important to Young Living, the D. Gary Young Research Institute team helps with employing cutting-edge science to develop unique products that lead the industry. The R&D team routinely develops new testing methods to help ensure the quality of products and performs state-of-the-art research to support product claims and uses.

STRINGENT, UNYIELDING QUALITY

Quality starts at the farm and is proven in the labs.

Through stringent, unyielding quality benchmarks, Young Living identifies the most pure, genuine, and effective ingredients.

A battery of physical, chemical, and microbiological scientific tests measure the exact components and properties of the essential oils. Each test is repeated numerous times during the quality process. Testing begins at the farms and continues all the way through the final stages prior to shipment.

A team of highly trained, highly skilled scientists perform state-of-the-art tests, including but not limited to:

Densitometry
Viscometry
Refractometry
Polarimetry
Inductively Coupled Plasma Mass Spectrometry (ICP-MS)
Inductively Coupled Plasma-Atomic Optical Emission Spectrometry (ICP-OES)
Gas Chromatography (GC)
High Performance Liquid Chromatography (HPLC)
Fourier Transform Infrared Spectroscopy
Automated Micro-Enumeration
Disintegration
pH
Microscopy
Combustibility
Flash Point
Gas Chromatography Mass Spectrometry (GCMS)
Chiral Chromatography
Isotope Ratio Mass Spectrometry (IRMS)
Top-Tier Standards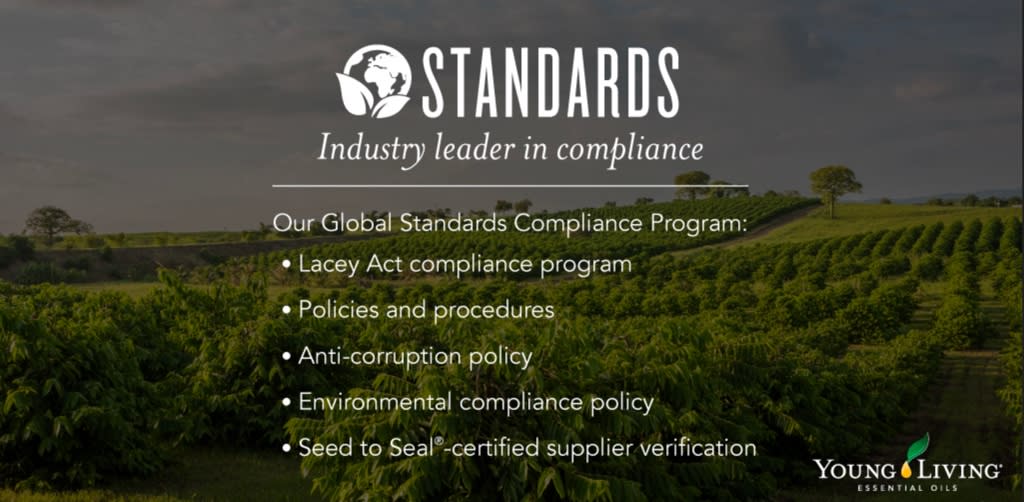 An integral part of Young Living's stewardship is to do business responsibly:
Sustainably sourcing plants
Uplifting local communities
Complying with environmental and other laws
Inexpensive essential oils are often synthetic, adulterated, or unethically sourced, which is why Young Living® chooses to partner with those who produce pure essential oils and ingredients ethically and legally.
For More In-depth Knowledge

GLOBAL COMPLIANCE PROGRAM

Young Living has developed a global compliance program that outlines a series of mandatory policies and guidelines.


The following list includes some of these policies and guidelines that are covered by the Global Compliance Program:

Young Living Code of Conduct
Young Living Employee Handbook
Young Living Policies and Procedures
Young Living Anticorruption Policy
Young Living Environmental Compliance Policy
Lacey Act Compliance Program
Young Living Travel and Expense Policy
Direct Selling Association (DSA) Code of Ethics
Industry Green Leader
Young Living's commitment to sustainable business includes reforestation of harvested trees; recycling at Young Living offices; and the construction of a brand-new, LEED and Green Globe certified headquarters in Lehi, Utah.
WHAT IS A STARTER BUNDLE?
If you're new to using essential oils and would like to start out on the right path (avoiding unnecessary confusion), I highly recommend that you begin your journey with an Essential Oils Premium Starter Bundle. It's a TREMENDOUS VALUE for your money and takes the guesswork out. Look at these different Starter Bundles and see if one would be right for you.



CONVENIENCE & FREEBIES
Young Living offers you a convenient subscription program that makes it simple to get product refills and try new things.
Couple this with Loyalty Rewards, you can earn up to 25% back in reward points and exclusive gifts!
*Cancel anytime (be sure to use your points first).
A NEW LIFESTYLE
I'd love to welcome you to the world of Young Living. Here, you will find much more than essential oils—you'll find a new lifestyle.
✅ I invite you to share your comments or ask me a question,
using the form at the bottom of this page.

This Short Video Tells The Story
---
Leave a Comment / Ask a Question
Subscribe to My Updates
Here's some information about the list that you're signing up for. It will populate the description from their account.
Free Email Class: Essential Oils 101
Learn all the basics on essential oils in my FREE Essential Oils 101 Email Course. I'll also share DIY beauty and skin care recipes, homemade cleaners and other practical uses for essential oils to help you save money too.
Ready to begin a healthier life?
Get a Starter Bundle and SAVE!
Most of us begin our journey by choosing a Young Living Starter Bundle. The bundles offer considerable value for your money and they contain enough full-size items to ensure initial success using Young Living.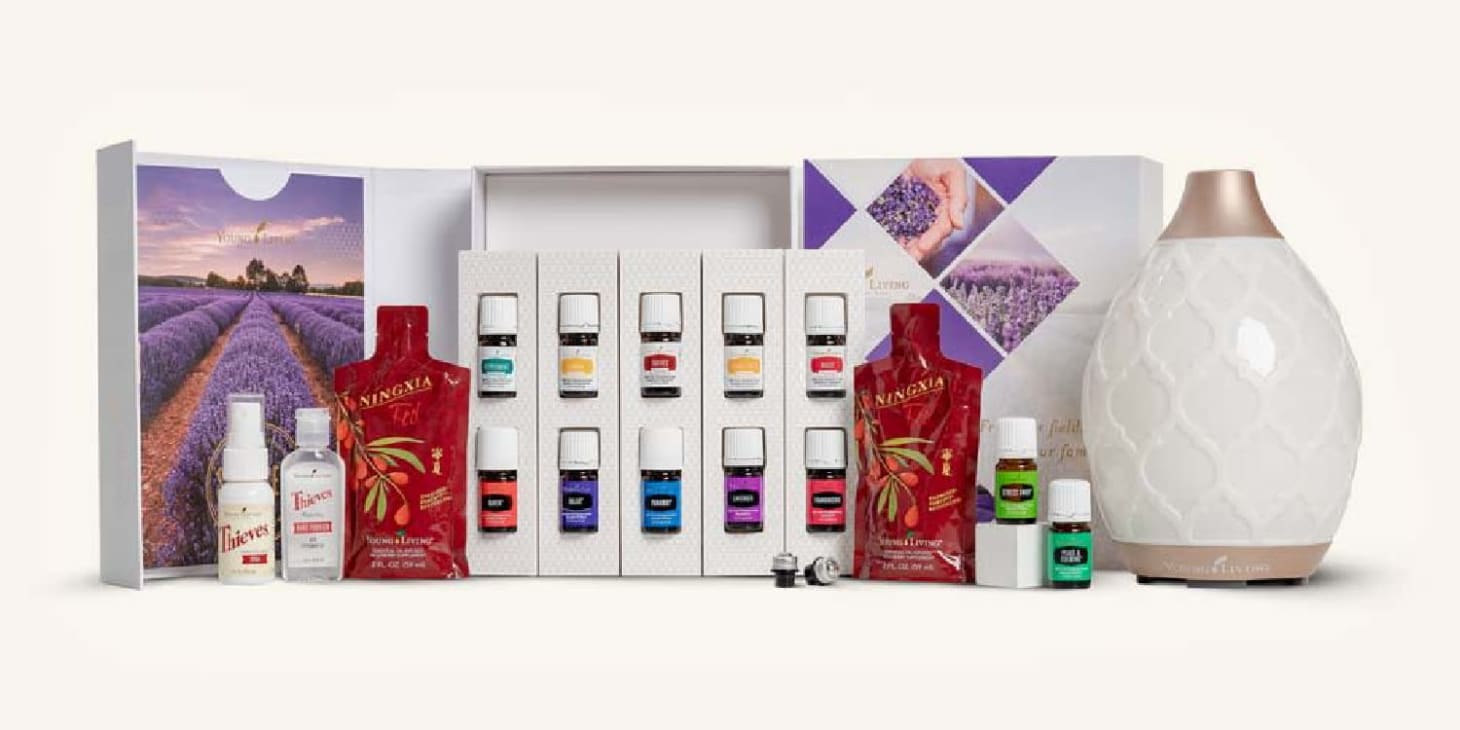 Check It Out
For Home, health, & fitness
Products for Everyone!
These products celebrate the harmony between nature, body, mind, and soul. Have you noticed that walking through lavender fields or a pine forest seems to instantly awaken your senses — from the energizing aromas to the feelings of well-being the smell evokes? Young Living infuses this into everything they create.
Next Event Title
This is a description of the event pulled from the user's account, talking about how awesome it is going to be.